---
---
---
---
HEY JENNER, WHAT CAN BROWN DO FOR YOU?
December 19, 2015
Let's start with the cute part of Halloween, and then we can end with the scary part. Colt might have been forced upon his costumes in the past, like, did you really think he said, "I want to be a meerkat"? Well this year it was all up to the little guy to pick his costume. So, what did he pick? Traditional scary outfits like a ghost or vampire? Or maybe a Super Hero like Batman or Superman? Or a costume of his favorite cartoon character? No, not even close. After much deliberation by Colt, he decided to be a UPS Driver!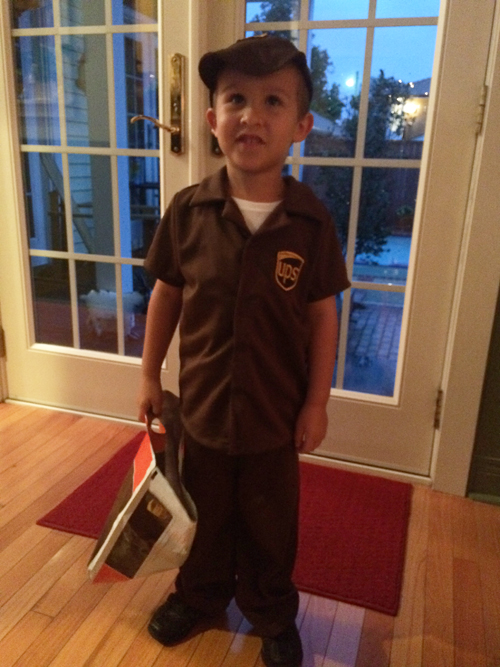 Now to the scary… no words are needed… may I introduce to you… Former Olympics Decathlon winner Bruce Jenner, and recent ESPY Award winner Caitlyn Jenner!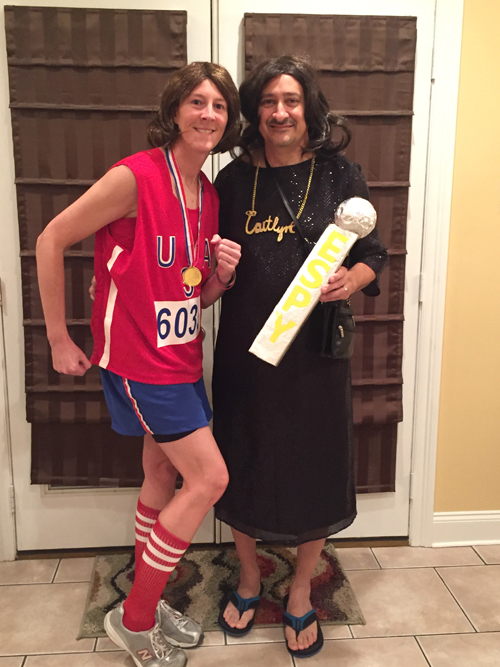 In case Caitlyn is not your type, and that's not the last thing you want to see, we'll end this article on some more Colt pictures.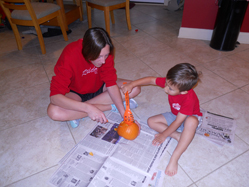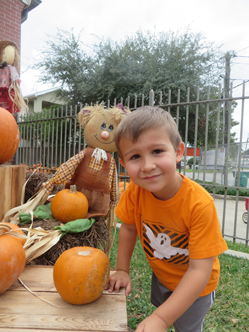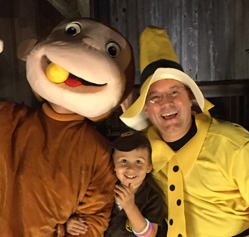 (L) Mommy helps Colt carve out his pumpkin.
(M) Colt picks out the perfect pumpkin!
(R) While Trick or Treating, Colt meets Curious George.
---
CRUNKED @ THE DOME
December 12, 2015
There are a bunch of big moments, or firsts, in a little boy's life, and Colt is no different. There were his first steps in his room. And we can't forget his first haircut at the Hammant's house. And what about Colt's first day of School at St. Ann? And we can't forget at the young age of one for his first bar, uptown at Henry's Bar! But maybe the biggest first… his first Saints game! Of course Glen & Caroline are not crazy; this wasn't a regular season game, but a meaningless preseason game! Colt never knew the difference. (Yes, we know, every game this year turned out to be meaningless).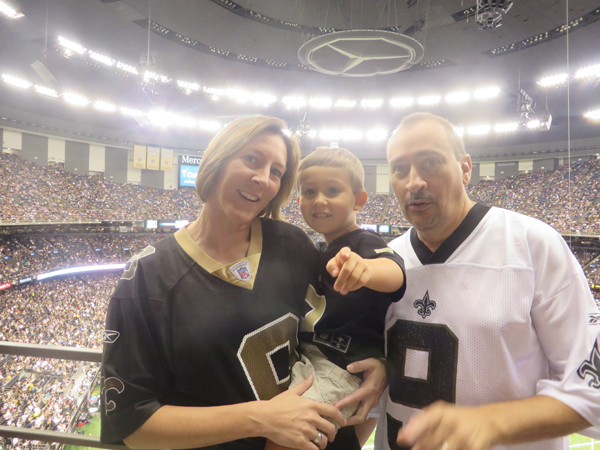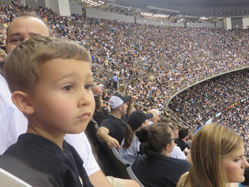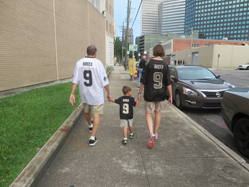 ---
OUR LITTLE MARINER
November 30, 2015
The journey has begun to the Class of 2030! I can't wait to jump in my flying car, take Colt out for a nice lunch at Piccadilly with my Senior Discount, and head over to Archbishop Aymond High School for his graduation. Of course this journey started four months ago as Colt entered PK3 at St. Ann School. Colt has really enjoyed school so far, and with little incident, other than a few "poo-poo head" comments. And he has looked sharp in his school uniform… from the first day of school, to his first school picture.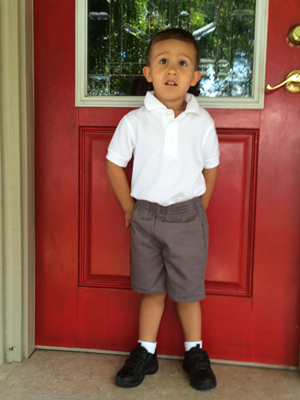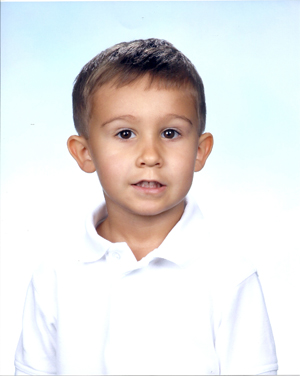 Colt jumped in feet first on his first day… if he was not playing with the trains or legos with his new friends, he was hanging out with the "ladies" in the kitchen!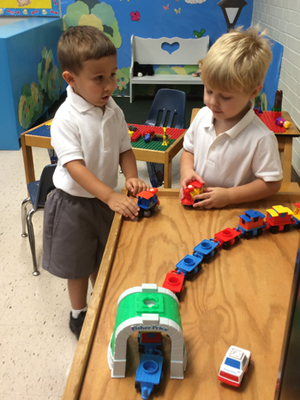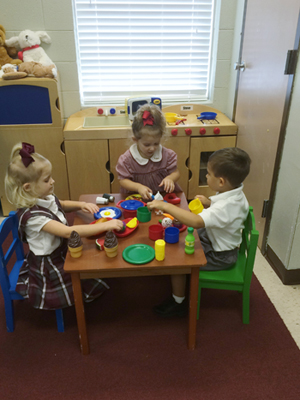 He also loved the special event days, like the Halloween Party, or Grandparents Day!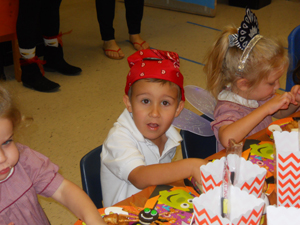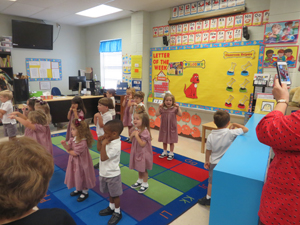 OK, Grandparents Day might not have been a highlight. As you see all the kids above standing in their square, singing their songs from the presentation… that is Colt off to the right, leaning on the bookcase, looking at the back of the room! He did great singing the songs at home, but when the cameras were on, in front of the audience of Grannies and Papa's, he decided to watch the other kids. To his credit though, he did applaud his classmates after all three songs!. Check the video below for some highlights.
---
MOVING ON UP
November 29, 2015
What better way to start a vacation then to just cut loose? With Colt heading out for his first beach trip this past July, he spent the day before "cutting the rug" Uptown at the St. Henry Reunion.
After a short one night for his annual summer stay at the Palace Casino, Colt went all "George Jefferson" on us. Heading to his first beach trip at the Caribe in Orange Beach, Colt & family had a deluxe apartment in the sky! Just ask Colt where he was staying, and he would tell you, "the penthouse." Along with Granny & Papa, and Uncle Donald & cousin Brandon, Colt enjoyed the weekend, either swimming in the pools, or floating in the lazy river. No fish frying in the kitchen. And no beans burning on the grill. We are talking about burgers at Flora Bama! The big league! (OK, enough of the Jeffersons)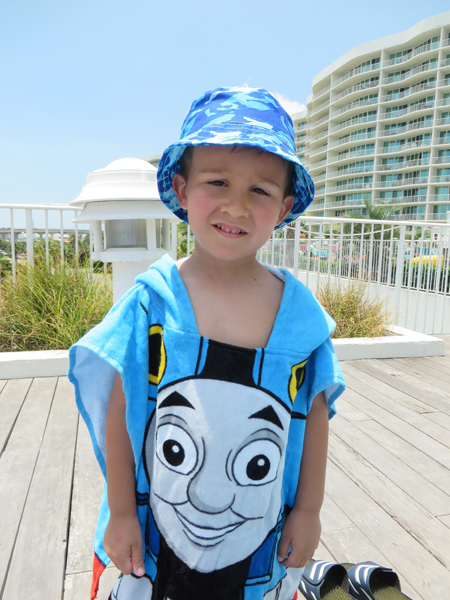 Colt models the latest swimwear fashion in Orange Beach.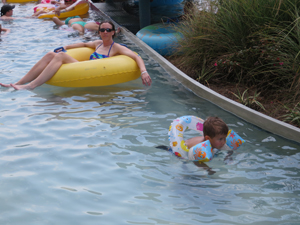 (L) Colt paddles ahead of Caroline in the Lazy River at The Caribe.
(R) Colt hangs out in the pool, checking out the ladies.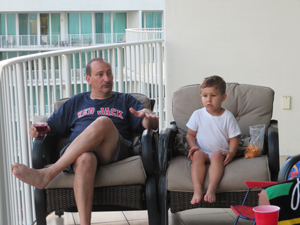 (L) Colt hangs out with Papa in the Lobby, checking out the fish.
(R) Glen & Colt hang out on the balcony enjoying a cocktail and some Cheez-Its.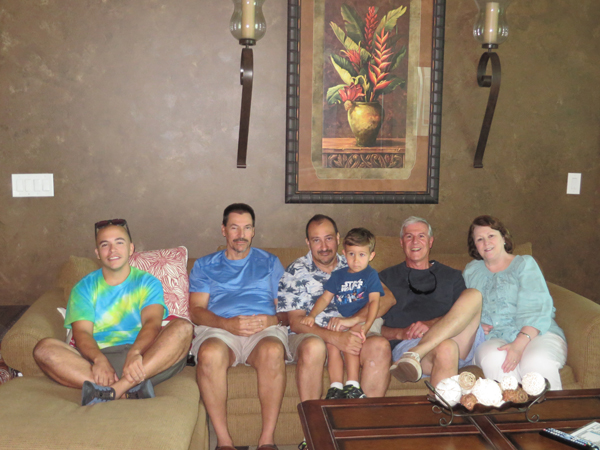 The Family: Brandon, Donald, Glen, Colt, Papa, & Granny (Not pictured: Caroline)
---
ONE BOUNCE, TWO BOUNCE, THREE BOUNCE
November 27, 2015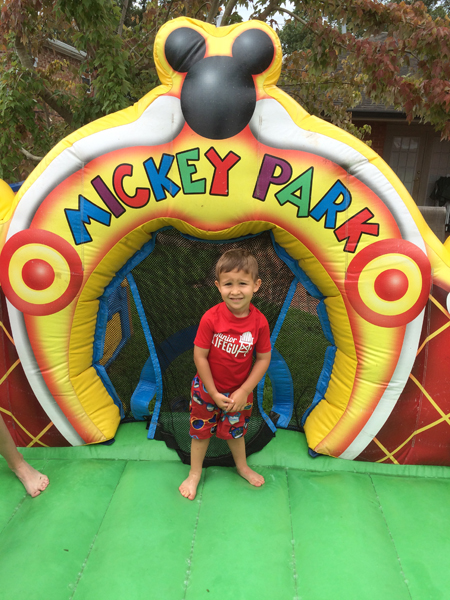 For Colt's 3rd Birthday back in June, it was all about the "bounce." Three days of bounce activity. It started as a surprise as Colt walked out of the back door to see "Mickey Park!" An open-aired, Mickey themed, space walk... ready for his big party.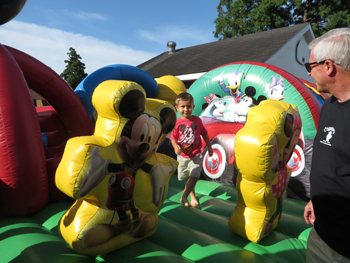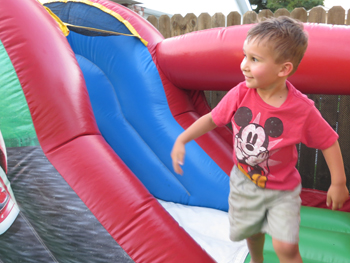 Colt welcomed everyone to his birthday party, and spent the day jumping in Mickey Park. He did take breaks for cake & presents, but soon went back to bouncing. Hell, what could be more fun? Well, it rained all night afterwards, and we still had the space walk! So Sunday was even better, as it became a super-slippery-slide space walk!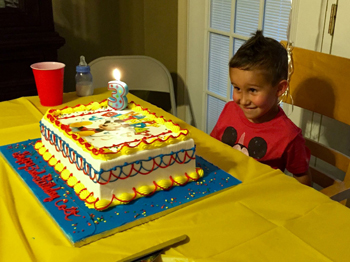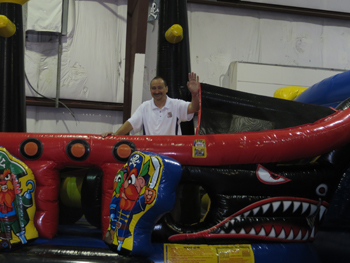 On Day Three, the bouncing continued, but this time we headed to BooKoo Bounce. However, Colt just played around for over an hour, never really getting in a space walk, leaving Daddy to jump all by himself.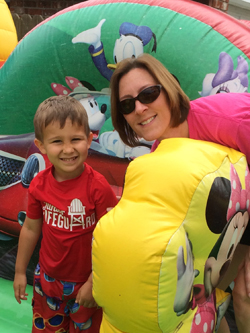 ---
THE MEMPHIS BLUES
April 29, 2015
The week before the playoff clinching victory over the Spurs by the New Orleans Pelicans, it was "Road Trip" time to Memphis! This was the first Road Trip for a "Pelicans" game; however, a previous trip was made to Golden State to see the Hornets. That first Road Trip was a defeat for the Bee's, but the trip ended up with Caroline and I getting engaged!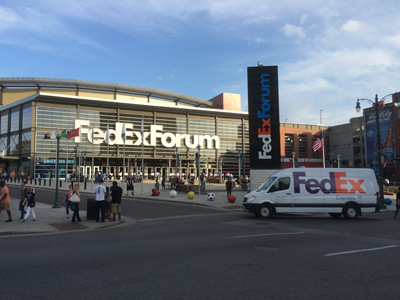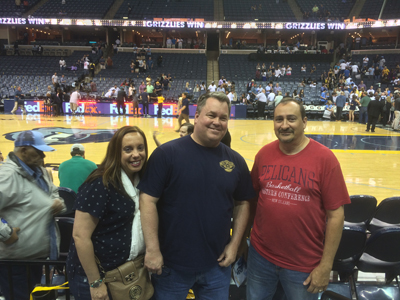 As Ernie & Dara headed to Memphis days ahead to watch the ducks at the Peabody, tour Graceland, and did whatever else there is to do there, my side-trip from work was just to see the game (other than a Memphis traffic stoppage due to a shooting). Despite great seats scored by Ernie's connection, the good feeling of a couple of cocktails on Beale Street didn't last long, as the Pels were just outplayed from the start losing by 36 points! Even AD only had 12 points. And speaking of outplayed, I do have to give it to the FedEx Forum…. That's a nice arena!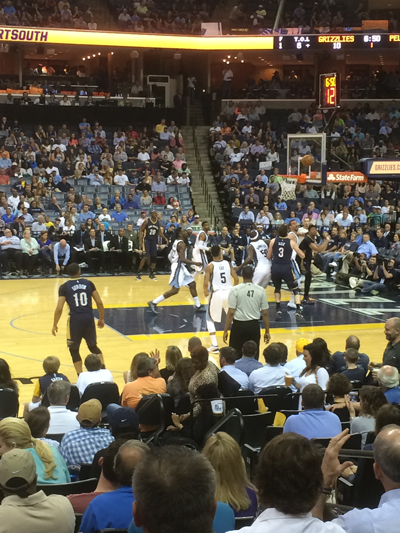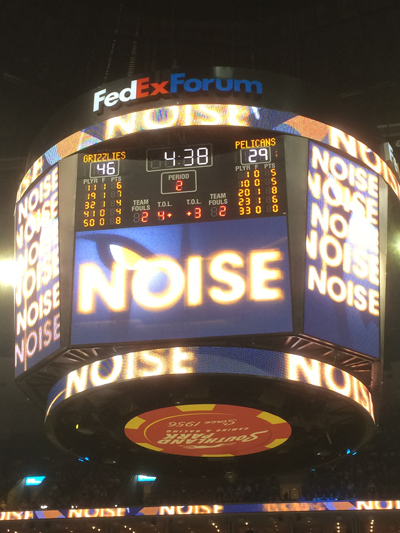 So to recap the two Road Trips and my travel companions: Pelicans 0-2, Engagements 1-1.
---
BRINGING THE WOOD
April 17, 2015

Happy 5th Anniversary Caroline! It's been a great ride so far, and we have just started. How about 5 highlights of the 5+ years… The Proposal in San Francisco, The Wedding @ St. Mary's Assumption, The Honeymoon in St. Lucia, Colt @ E.J.G.H. and Josie, the dog we rescued from eating out of a garbage can! Love you babe!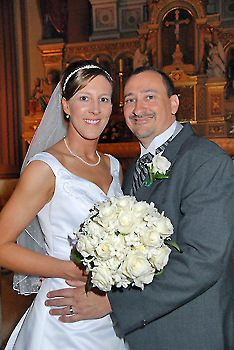 April 17, 2010, St. Mary's Assumption Church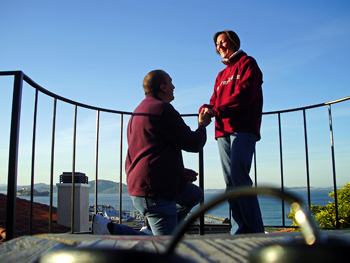 LEFT: The proposal in Jack Early Park in San Francisco (2009) / RIGHT: The Honeymoon in in St. Lucia (2010)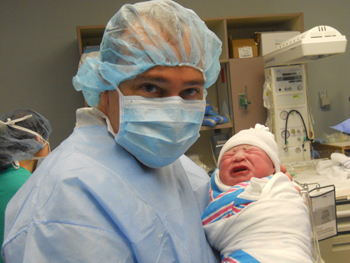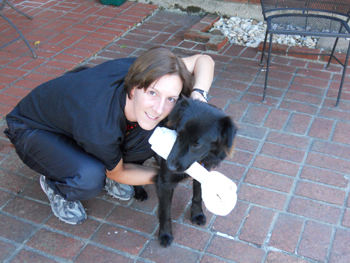 LEFT: Colt is born at E.J.G.H. (June 29, 2012) / RIGHT: Josie comes aboard (2010)
---
THE BROW RUNS IN THE FAMILY
April 1, 2015
The success of the New Orleans Pelicans has silenced some rumors that started in Metairie months ago, but it has come back in the forefront today. Suspicion originally started as Caroline Davis has been photographed with Pelican's forward Anthony Davis. Some have said Anthony is the real person that gave the former Caroline LaRocca her new last name. The situation became sticky when her son, Colt, took the middle name of Anthony. In addition, pictures later surfaced of Colt which had an eerie resemblance to the basketball all-star. Also in an odd twist, as most kids got a chocolate Easter Bunny in their Easter Basket, Colt got…. you guess it….. an Anthony Davis Action Figure. As of this morning, old video footage surfaced which shows Anthony Davis entering East Jefferson General Hospital on June 29, 2012, the date Colt was born. Glen Davis, who currently lives with Caroline, has ordered a blood test for all parties involved.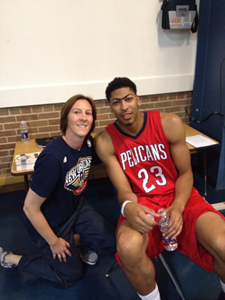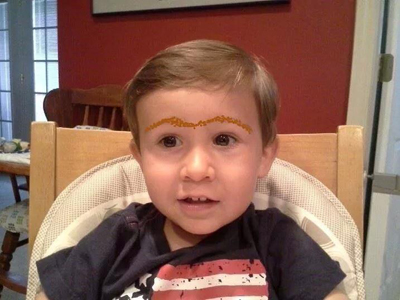 Please note, this story has been fabricated for the enjoyment of our readers. Most facts listed are not factual. For example, Colt does not have a unibrow! That was Photoshoped. In addition, this article was posted on April Fool's Day.
---
ANTHONY DAVIS X2 IN BLENDER
March 25, 2015
It's been a busy 12 day period, sandwiched between seeing Penn & Teller at the Saenger and seeing Stevie Wonder at the Blender (plus stopping by Parasol's on St. Patrick's Day). But between those two events, it has been even busier for Colt! There was going to the Irish Channel Parade on St. Charles Avenue (which he had more fun than it looks like). Then he was jamming to Bonerama at Lafayette Square on Wednesday. And we can't forget the Junior League "Touch a Truck" event by Children's Hospital on Saturday (which he didn't mind touching, but refused to go inside most vehicles). However, all that was secondary!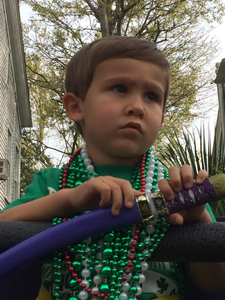 The big event for Colt was attending his first ever New Orleans Pelicans game!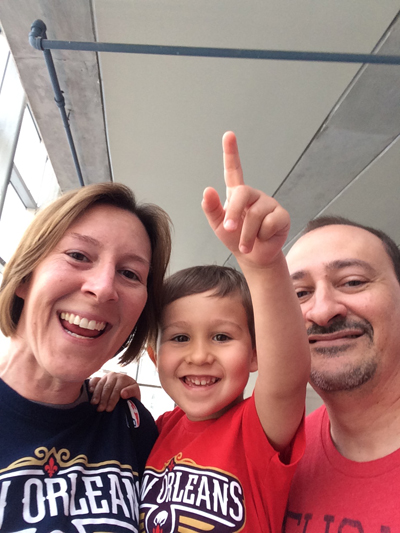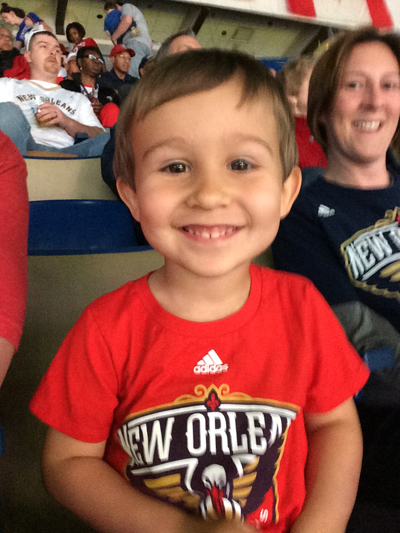 As the over/under for Colt was one quarter, he actually lasted to half-time! And during that time there were plenty of "Go Pelicans" and "Two Points" being yelled, as well as dancing in the aisles during the breaks in action. This performance might have entitled him to a Saints preseason game! But sorry buddy, you're not ready for the big time NFL yet! But close.
---
LUCK OF THE 3/16th IRISH
March 20, 2015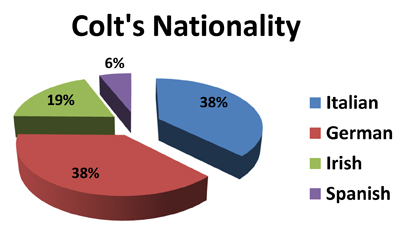 Where are we from? What's my nationality? This question becomes more complex as every generation passes in America. My grandparents were easy… 100% Italian, 100% German, 100% Irish. Of course that made me a little mixed. But still, I was a "half" this, a "quarter" that. Easy. But now we get to Colt's generation. Add another gene history, and we are talking about 38% here, 19% there. Now we have to actually use math, or some common core equation, to figure out what the little guy is! Well, we did it! German and Italian are the big winners, with a slice of Irish, and a sliver of Spanish.
---
THROW ME SOMETHING MIST.... Zzzzzzzzzzzzz
March 4, 2015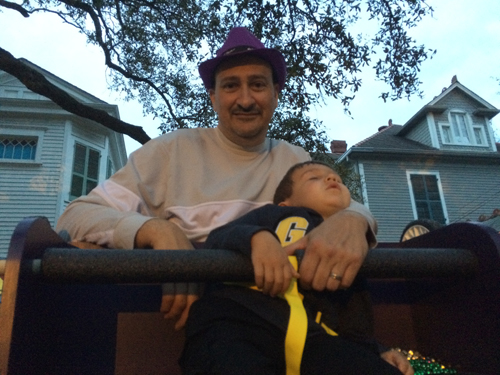 Colt falls asleep in his ladder during Bacchus.
Another Mardi Gras has come and gone for the Davis family. The Top Story in 2015 was that Colt was going to get his first Mardi Gras Ladder! After a week-long preparation of the ladder by Dada, which included a primer coat, purple paint, then a clear protective coat, the ladder was ready. Dada even installed the mandatory wheels and "cup-holders!" It was Mardi Gras Sunday, time to break it in, so off we were to Henry's Bar. After carefully transporting the ladder, we dropped it off ONE BLOCK from the parade route, so then Papa could roll it to our spot while I found a place to park. Then, Papa proceeded to apparently hit every pot hole & sidewalk crack in that ONE block to scrape Colt's ladder all up! Don't worry; the ladder will hit the shop after the St. Patrick parades to be ready for next year!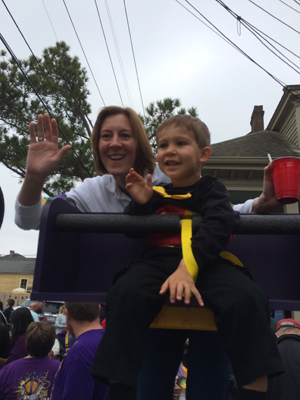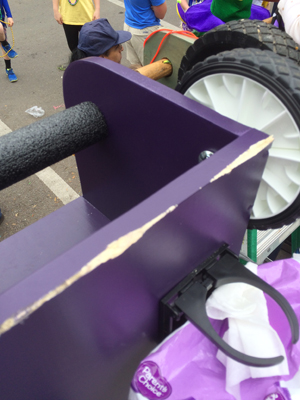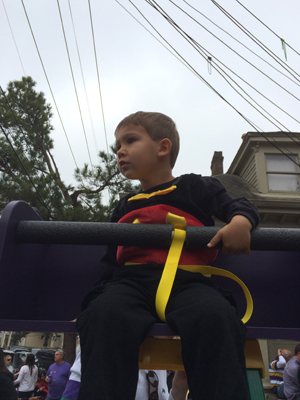 LEFT: Colt enjoys his new ladder at Thoth. / RIGHT: Papa wrecks Colt's new ladder. / RIGHT: Colt keeps an eye out for the next float.
With a wet & cold forecast scheduled for Mardi Gras Day, Colt got decked out in his Mickey outfit on Sunday for an early Mardi Gras celebration. Colt really enjoyed his ladder and the parades, as long as you didn't get too close to the floats. He partied hard for the three day parades by Henry's Bar, and made it to float 5 of Bacchus that night, until he couldn't make it anymore! Not even the "Marching 100" could keep him up.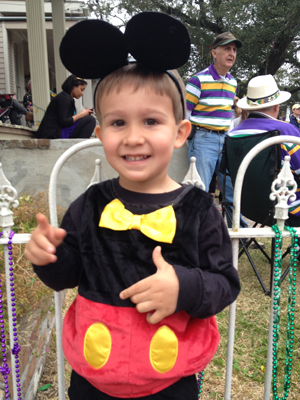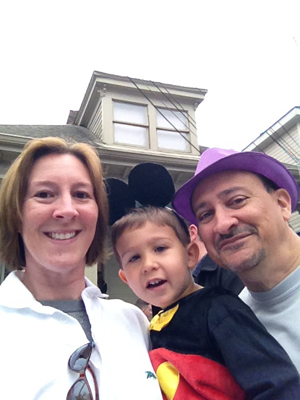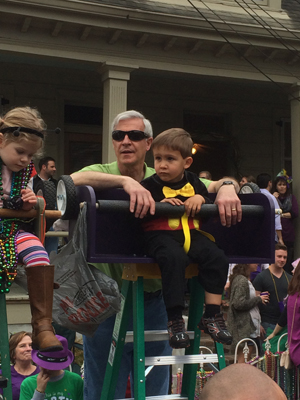 LEFT: Colt dresses as Mickey for his third Mardi Gras. / CENTER: Caroline, Colt & Glen on Magazine for Thoth. / RIGHT: Papa takes a turn with Colt on ladder.
Mardi Gras Day came with the cold weather as expected, but the rain came overnight to the delight of the revelers. However, it was still very cold, and Colt had some early morning "poo-poo" issues, so the parades were called off for the Davis family. However, that did not keep Colt from his three year traditions…. The Milan Lounge followed by lunch at Theo's Pizza! (Colt & Dada did break away to catch one float/truck on St. Charles Avenue to keep his streak alive.) The day was ended by Anthony recreating his fall at Theo's from last Mardi Gras where he broke his ribs!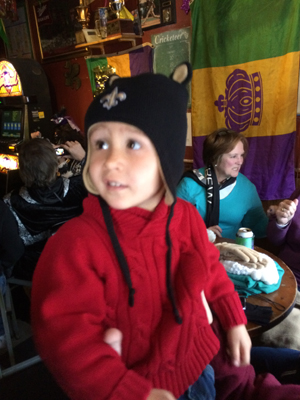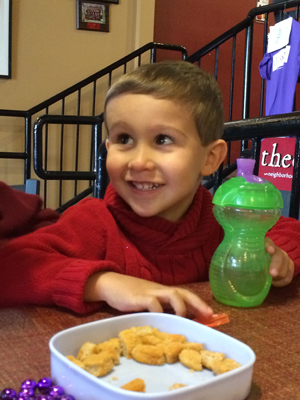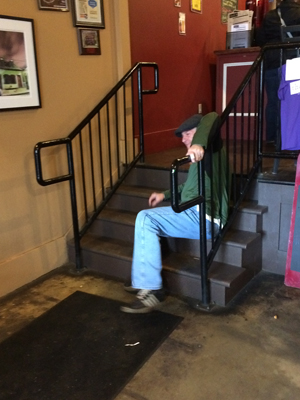 LEFT: Colt hangs out at the Milan Lounge on Mardi Gras Day. / CENTER: Time for lunch at Theo's Pizza on Magazine. / RIGHT: Papa recreates his fall from last Mardi Gras.
Colt did miss one thing for most of Mardi Gras, especilly that Sunday, and that was Granny! Recovering from knee surgery, Granny was on the sidelines a lot of the weekend, but Colt realizes there will be plenty more Mardi Gras' with her in the future. He can't wait to step up to the bar at the Milan Lounge one day and order the two of them a cocktail!
---
SHE'S ALIVE! SHE'S ALIVE!
January 20, 2015
We have received hundreds of emails acquiring about Josie. Most of them sounded like: "Where's Josie?" or "How's Joise?" or even "Did Josie, you know, pass away?" We understand your concern, as she has not been pictured on this web site since May 10, 2013! In addition, not only was she not pictured on this year's Christmas Card, she wasn't even mentioned!
Good news….. Josie is alive and well! Here's a picture from her trip to the park this past weekend. She's gets a little lost with all the Colt stuff, but she is still a big part of the family.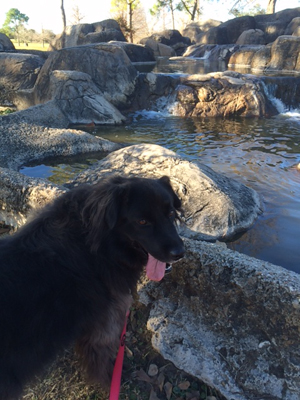 ---
THE SNOCKINGS WERE HUNG WITH CARE
January 15, 2015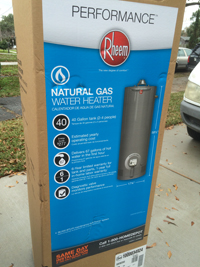 The guy who visited Colt last year who was referred to as only "Ho Ho Ho," returned this year as "Santa Claus!" But still, it was just a guy in a red coat and funny hat. Now, next year, he will be the man! But let's back up a bit…
'Twas two days before Christmas, when all through the house, not a creature was stirring, except maybe for Josie; The snockings were hung on the bookshelf with care, as that is what Colt kept calling them; The house was all calm and quiet, until Caroline yelled from the shower, "There's no hot water!" That's when the idea hit for the Davis Family gift. As past years brought the household a Camcorder or Tablet, this year we got a Water Heater! But let's back up a little more…
The Christmas Season started on Thanksgiving Day, as we got a great picture for our Davis Christmas Card (on which on it I will always refer to us as "The Davis Family," because I don't like "The Davises, " which I am told is the proper way to spell the plural of our name). That was followed by a less than stellar visit for a Santa picture, after two great years to see the Jolly Old Feller. And the last activity was Colt's first visit to Celebration in the Oaks. He might need another year for this one too, but he did enjoy Thomas on the miniature train track and dancing by the light show. However, Colt seemed to more enjoy flirting with the waitress at Café Navarre afterwards.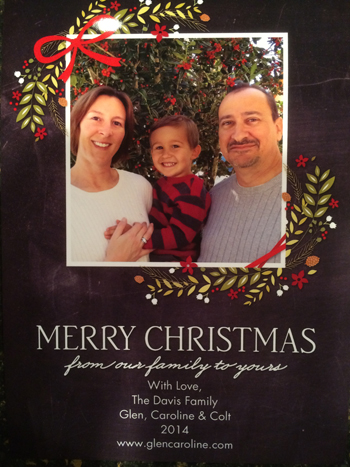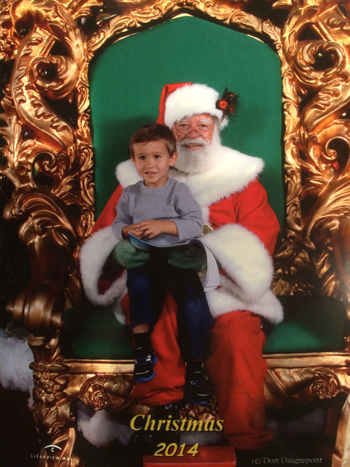 Let's move to the big day! Colt was all ready for the "big guy." The house was sparsely decorated along with the Christmas Card Tree (kinda hard for the "little guy" to break a Christmas Card). After the nite's rest, Christmas Day was mainly about three things: Big Tractors, Big Trucks & Cars (and a Jeep). Throw in some toys, books & clothes and you can say Colt had a great Christmas! Colt has finally gotten the concept of how to open presents, although he still has trouble in being so focused on the last one, it's hard to move to the next one. He's also not good yet in taking pictures, so Donald and I stood in for him with some of his presents. However, either in his Snoopy pajamas, or his Christmas sweater, he got to them all! And to end Christmas day, Colt finally got to meet 3-day old Maggie!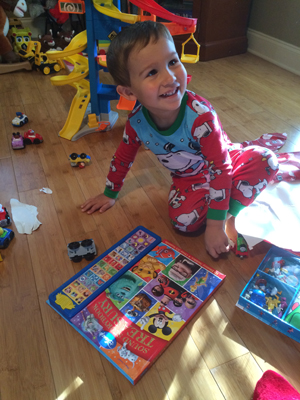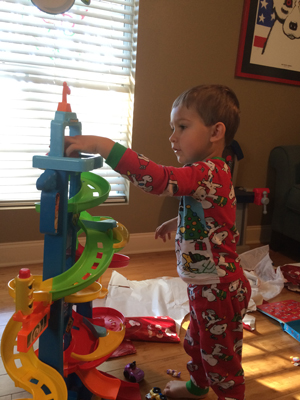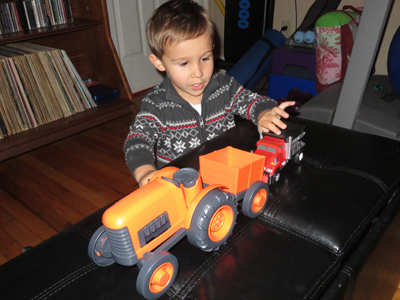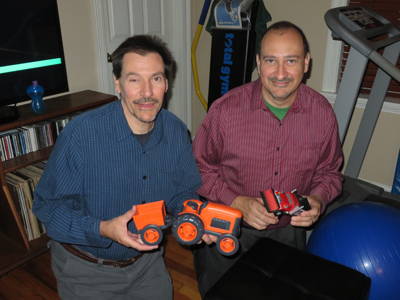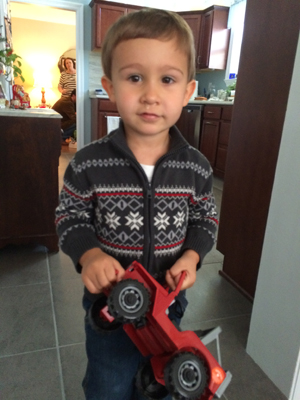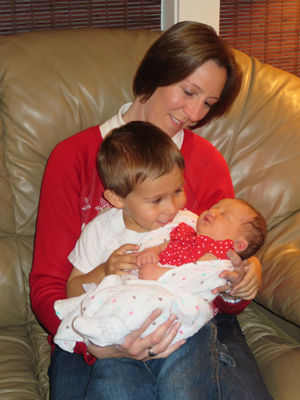 I guess you have noticed nothing being mentioned here about Glen & Caroline. Those days are now long gone in terms of Christmas, much like the annual Kwanzaa on Kawanee Party. But they are both doing well, and got some nice things for Christmas. Santa even filled Caroline's snocking with everything to make her favorite drink!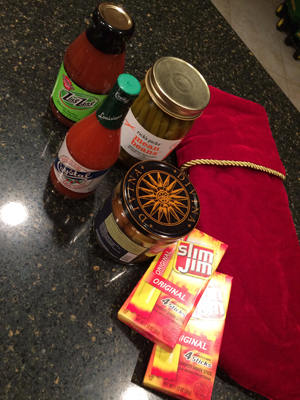 ---
I'LL PASS ON THE TURKEY
December 4, 2014
Turkey? "No turkey." Stuffing? "No stuffing." Cranberries? "No cranberries." Yes, the answers across the board for thanksgiving dinner were universal from Colt, "No." Well, until dessert came! Maybe he was thinking ahead to Friday and Uncle Joe's property! Anyway, we hope everyone had a great Thanksgiving.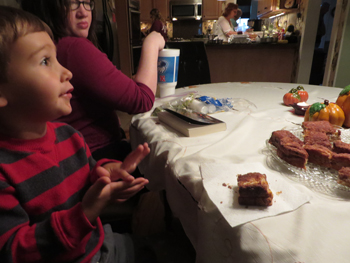 ---
PUMPKIN GIVER, EARLESS MOUSE
December 3, 2014
The first thing you do to get ready for Halloween is to head to the pumpkin patch and pick the perfect pumpkin! And when you find it, hold onto it tight, and make sure you don't lose it. Unless you get distracted by a cute, younger girl and you decide to make a move for her and give it up! But in the end, Colt got to keep his pumpkin.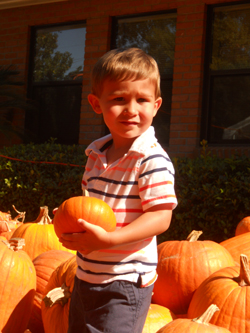 But of course Halloween is about the big night! Trick or Treating! Colt headed out as his own strip-down version of Mickey Mouse, which was Mickey minus the ears & gloves. It didn't matter, as he racked up on candy throughout the neighborhood. Later back at the house, Colt was distracted by his new "tractors" from Granny, as Daddy "inspected" the "candy situation!"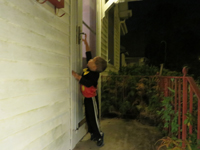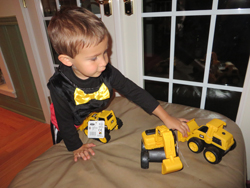 ---
CLEVELAND ROCKS... AND SUCKS
December 2, 2014
After two disappointing year's of Saints Road Trips to Denver & New England, we had a new plan this year…. let's go for the easy win! Not only that, after a two-year absence, Caroline rejoined the trip, and she was previously 3-0 on our trips. So what's an easy win in the NFL, the Browns of course! Wait, maybe not. A similar storyline of last years trip, it was a great weekend for 2 days, 59 minutes & 54 seconds. Things all changed during the last six seconds.
There was fun to be had in Cleveland before the game, and the first stop was the NFL Hall of Fame in Canton, OH! Things were different there since my last visit ten years ago. Most of the Saints mentions back then were records made against us, like Flipper Anderson's record. Actually, they had a case which had about five anti-Saints records. Now? It's Brees. Payton. Superbowl. Hall of Famers. And my favorite Saint, Hollywood Joe Horn! It was also nice to see Ricky Jackson & Willie Roaf side-by-side. Also on display was this year's Lombardi Trophy, which I think it's safe to say I won't see that one again!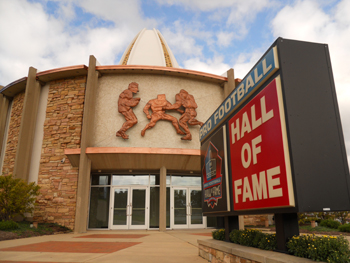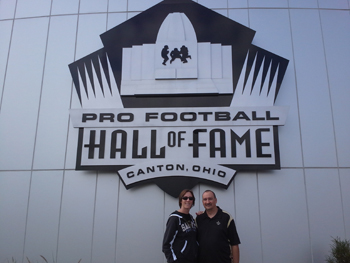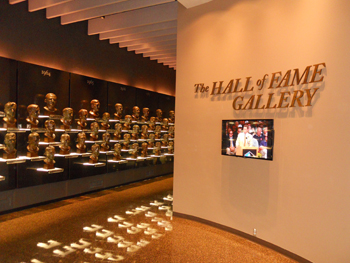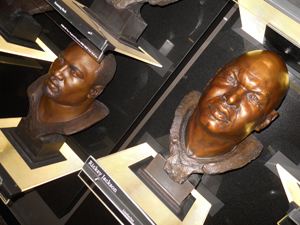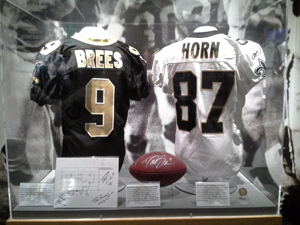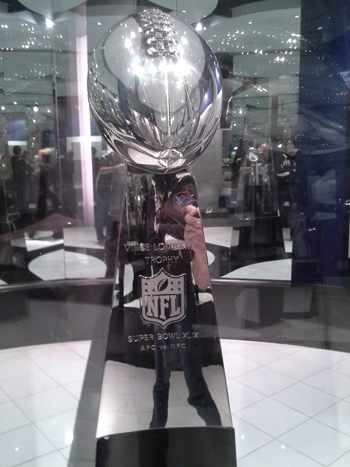 Next it was on to the Tremont neighborhood in Cleveland to check on Ralphie and the family! The house is completely restored to how it was in "A Christmas Story," and of course, the Leg Lamp was lit by the window so all the neighbors can see! Also, we were not supposed to see her until Sunday, but look who we found hiding under the sink like Randy!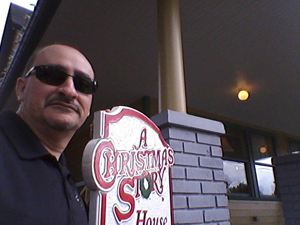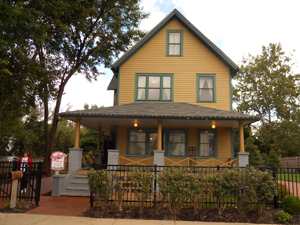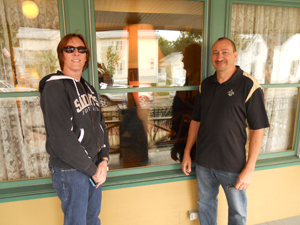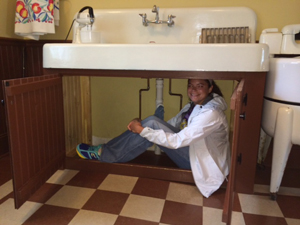 Saturday afternoon we finally made it to our Cleveland hotel by the shores of Lake Erie, right down the street from the Rock and Roll Hall of Fame!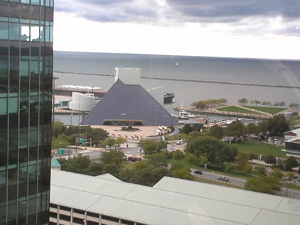 At the Rock Hall, we saw true "Rock 'n Roll" items like Jimi Hendrix outfits, props from Pink Floyd's The Wall, and The Beatles Sgt. Pepper's memorabilia.....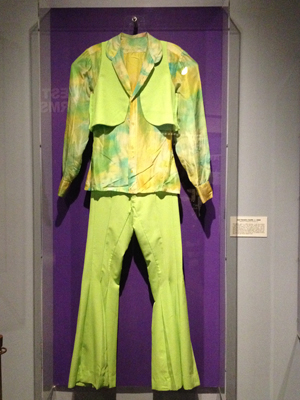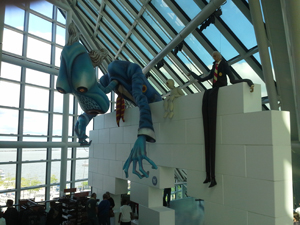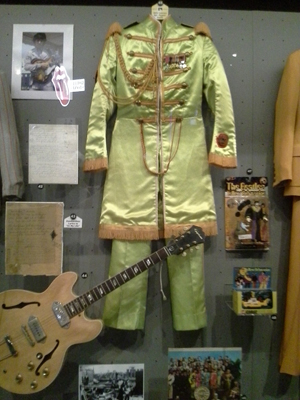 However, there were some not-so-true "Rock 'N Roll" items (which still were interesting) like Michael Jackson's glove, Flavor Fav's Clock Necklace and your Story of Rap Music. We won't get into the discussion of what should be in the Rock Hall.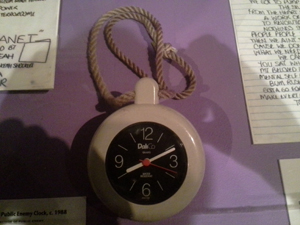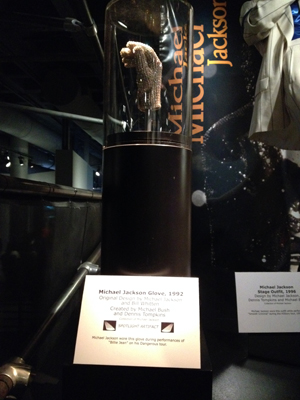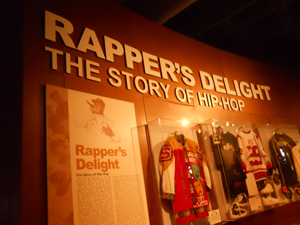 Of course the trip was about the Saints game at the newly renovated FirstEnergy Stadium, which was on a beautiful Sunday evening.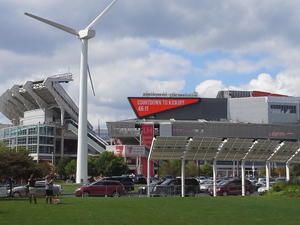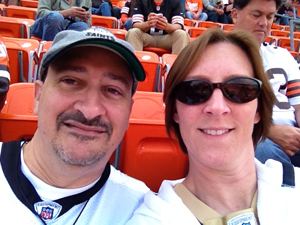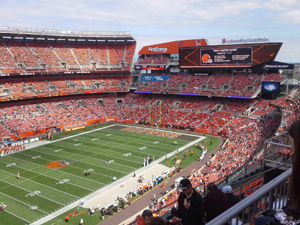 As you saw previously under Ralphie's sink, we met up with Mary & Frank on game day, and represented in Section 504. Unfortunately, the only place you can buy their teenie-tiny cocktails was on the 100 level, which makes sense to….. NO ONE! But you have to give them credit on their Jumbo-Tron, which is the second biggest in the league. For comparison, look at the word 'today' in the picture below, that's about how big the one is in the Superdome. As far as the game, you know what happened.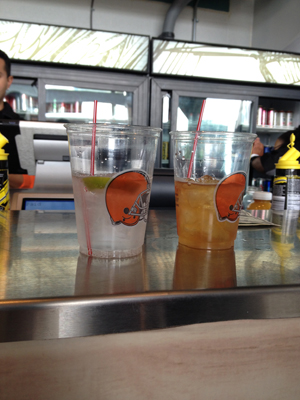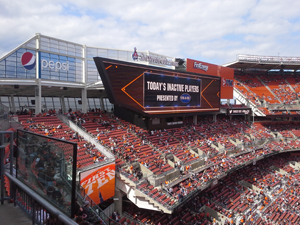 And a few closing pictures… Hanging out on East 4th Street, my obligatory cocktails picture, and our departing shirts!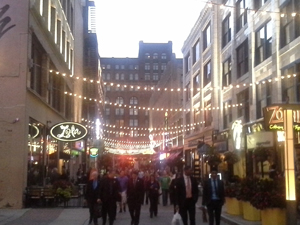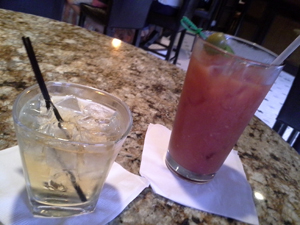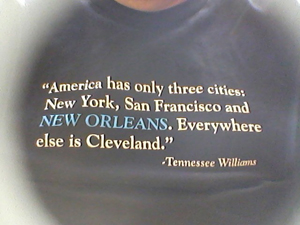 ---
BUS STOP #2
November 11, 2014
It's been five months now, but Colt rolled into his 2nd birthday in June! Riding the theme of his favorite motorized vehicle, the house was full of School Buses… cake, balloons, signs & of course his shirt! Anything short of having a real bus at the house (I tried).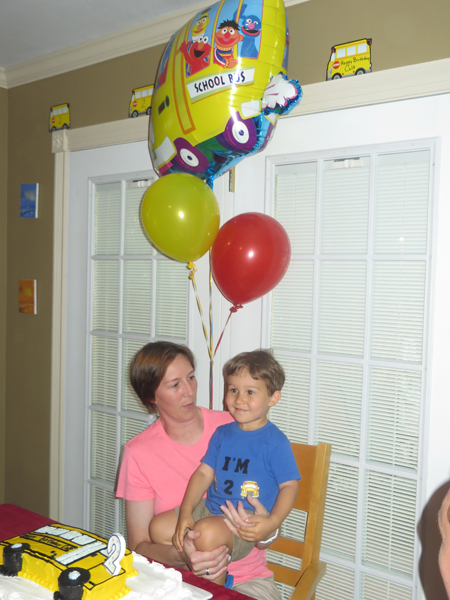 Colt thanks everyone who came, and for all the gifts. His hat. His wiggles dashboard. His work bench. Everything. Especially all the new buses to add to his already extensive collection!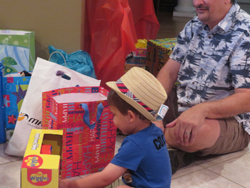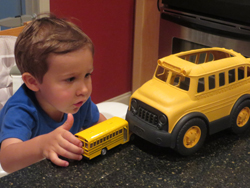 Colt also got a couple of cool things to make going in the yard fun! First the swimming pool from Mama & Dada, which he even got Granny to get in, and Granny never goes in a pool! Also, Granny & Papa got Colt his own house, with games and a slide!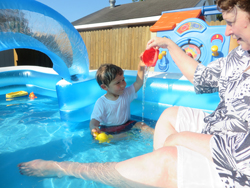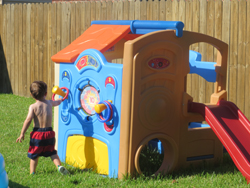 Like any big birthday, no matter how old you are, it takes a lot out of you, and at the end of the day you just want to go to sleep. No matter where you are!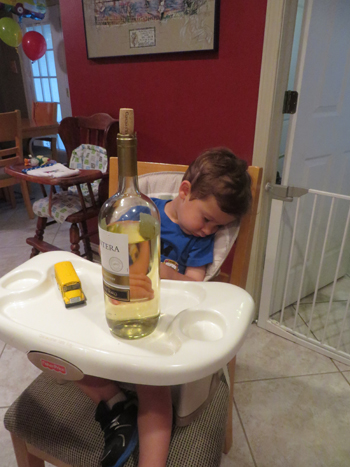 Lastly, in looking back at the pictures, apparently Colt got one gift that was liked by many….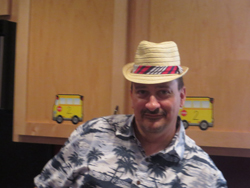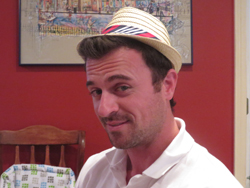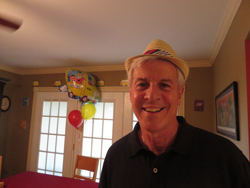 ---
AUDUBON H2O INSTITUTE
June 27, 2014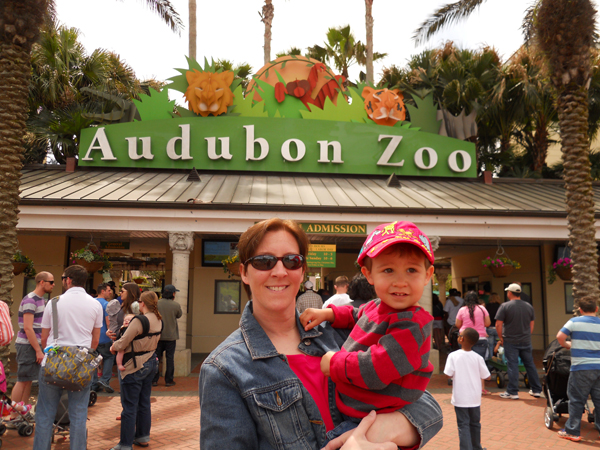 The Davis family finally became members of the Audubon Nature Institute, which meant one thing for Colt.... visits to the Zoo & Aquarium. Now Colt knows his animals, he tells us all the time. However, he was more fascinated with something else during his first visit to the zoo: WATER! The pictures below tell the story of the day. As we entered the Zoo, we stopped to see the flamingos. Colt looked down in front of them and said, "WATER!" Later on we stopped to see one of his favorite animals, the Tiger. However, Colt had to point out that they had "WATER" all around him. Next it was on to the monkeys, everyone's favorite. But Colt just pointed down and said, "WATER!" Last was the giraffes, which wasn't surrounded by water, but Colt did his darndest to look for some!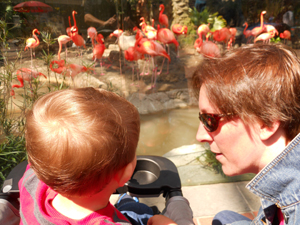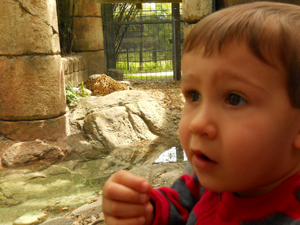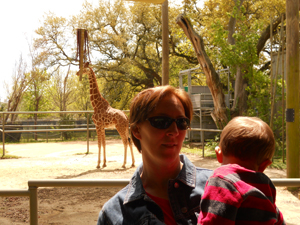 Colt got his wish about a month later when he visited the Aquarium of the Americas. There was water eveywhere! He even got to stick his head in a tank. And shortly after that, Colt got his own fish at home, which he appropraiately named.... "Water."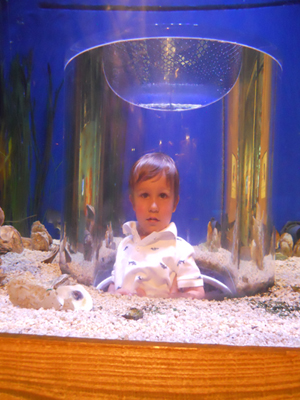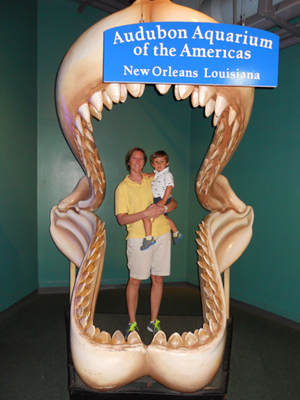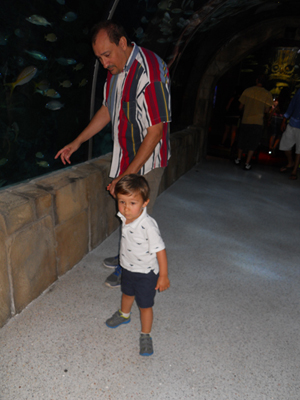 ---
MILAN GRAS
June 21, 2014
Not rain, sleet or snow can keep our little Train Conductor away from Mardi Gras Day. As he waited for King Rex in the comfort of his car seat, his royal subjects stopped by, one after the other, to give him a toast. Then when Rex was in sight, he made the move to St. Charles Avenue! He braved the rainy conditions, until the truck floats came.... then the fun started!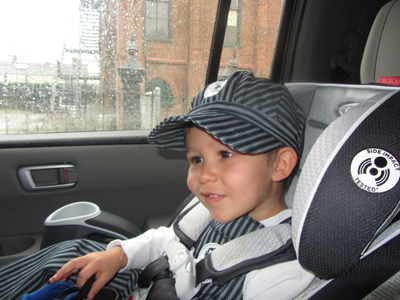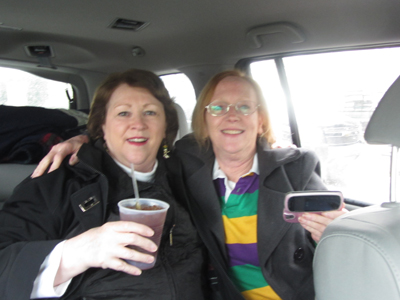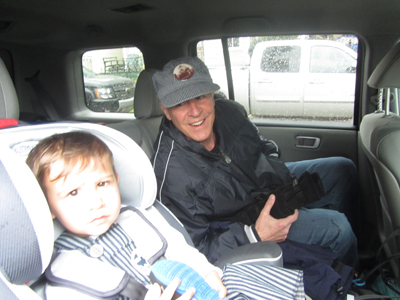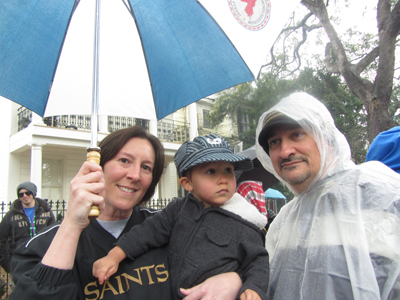 Colt had enough of the rain, he wanted to go inside, where it's dry, where he could could have a little fun. So it was off to the Milan Lounge where he could play a little Pac Man, play some Video Poker with Na Nan, and hang out and have some Virgin Major Peters!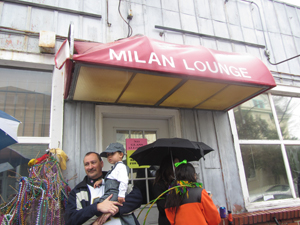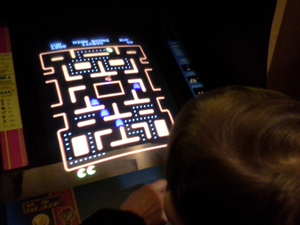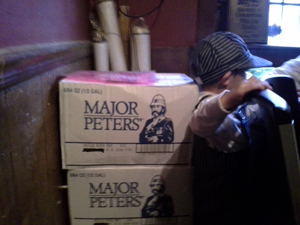 But what Colt wanted to do more than anything.... was dance! So he danced & danced, but too bad our cameras couldn't keep him focused. After all that fun, there was only one thing left to do, a Mardi Gras Day Tradition, dinner at Theo's Pizza!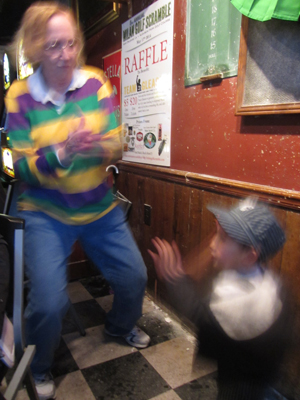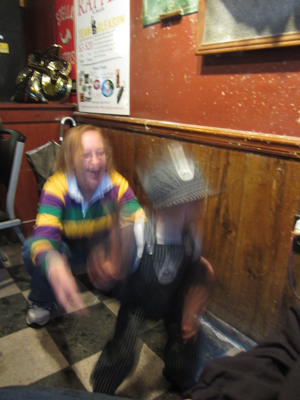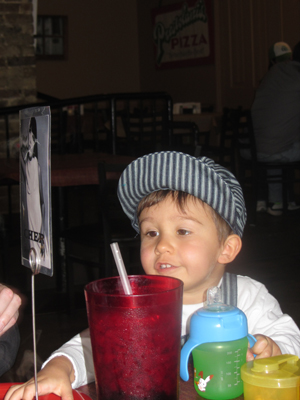 TMZ BREAKING NEWS... TMZ BREAKING NEWS... TMZ BREAKING NEWS... TMZ BREAKING NEWS
One-year old Colt Davis caught on video dancing in New Orleans dive bar Milan Lounge on Mardi Gras!
And to wrap up the parade season, the only thing left was the St. Patricks Day Parade in the Irish Channel!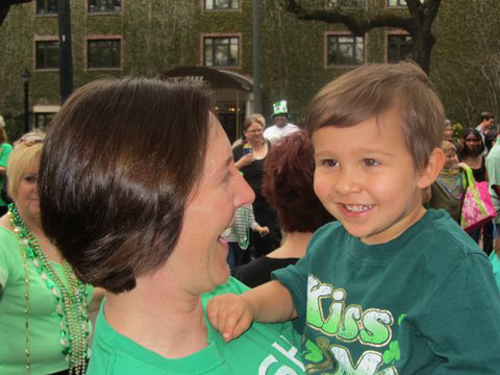 ---
BUS BELLS RING, ARE YOU LISTENING
June 20, 2014
Again, we have a long gap with no postings, but we will catch you up as always! We will now go back to a little day which a special person visits Colt, who goes by the name, "Ho Ho Ho!" If Colt wanted one thing from Ho Ho Ho, it was a School Bus! Luckily, Santa visited Granny & Papa's house and left him one.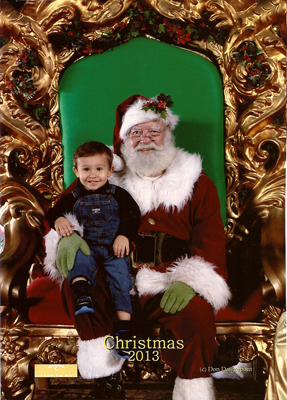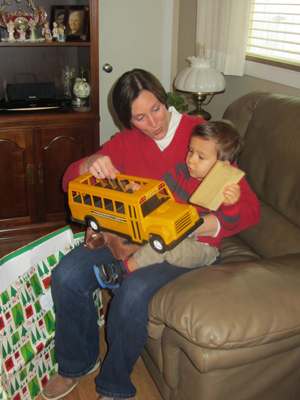 As you would have guessed, Colt racked up during the Holidays. Home. Granny's. Nanny's. AA's. There are two things today, six months later, that he asks for every night when we play in his room....... "Shark" and "Two Points!"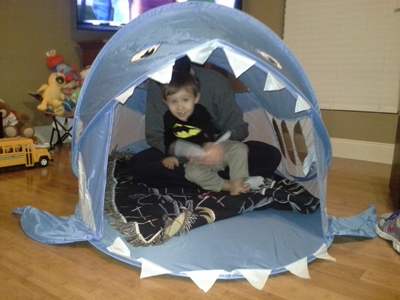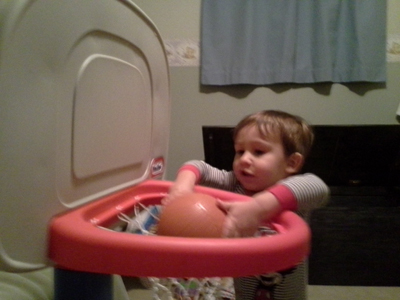 Here is the Davis gang on Christmas, and our favorite gifts to each other. Caroline got me the big Colt head, and I got her the Colt Baby Pictures. Colt is now represented on the wall, as poor Josie has her picture sent to the back of the house.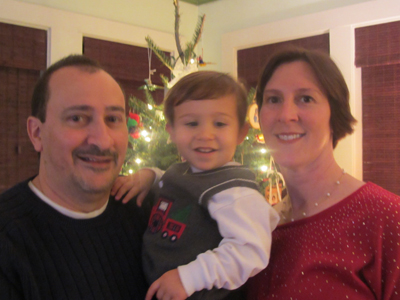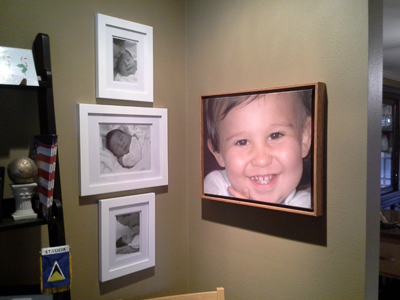 ---
CORNUCOPIA OF BLAND
December 16, 2013
Colt was excited! It was time to eat some real food for a change! Turkey. Cranberry sauce. Sweet potatoes. Stuffing. Apple Pie. Peas. More turkey! It was his first "real" Thanksgiving. But his dream never happened, much like that turkeys dream of making it to the New Year. This time diarrhea showed it's ugly face, or more like it, it's stinky butt. Colt was on "bland food" for the week! Yes… turkey, cranberry sauce & sweet potatoes were replaced by cereal, noodles & plain rice. Poor, poor Colt!
But as you can see the picture, Colt made the best of it, and put on a happy face. He only hopes Christmas turns out better than Halloween & Thanksgiving!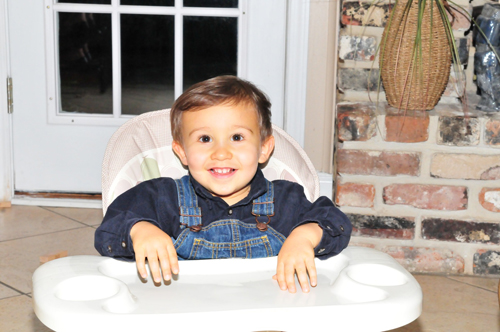 ---
IS THAT TIMON?
November 28, 2013
As the story goes, late in September at the Party City warehouse, the warehouse manager yelled down to the floor, in a surprising tone, "Hey, someone wants the meerkat costume!" So they brushed off the dust, and shipped it to Louisiana.
Actually, after Daddy picked out Superman for Colt's first Halloween, Mommy went with her favorite animal, the meerkat, for year two. We figure at age two, Colt will probably pick out his own costume next year.
As excited as we were for the trick or treating, a combination of bad weather and Colt being a little sick, we didn't make it out to the streets this year. Daddy's only hope for candy was the remainder of what we left on our front door step when we got home. Unfortunately, the little brats in our neighborhood wiped us clean.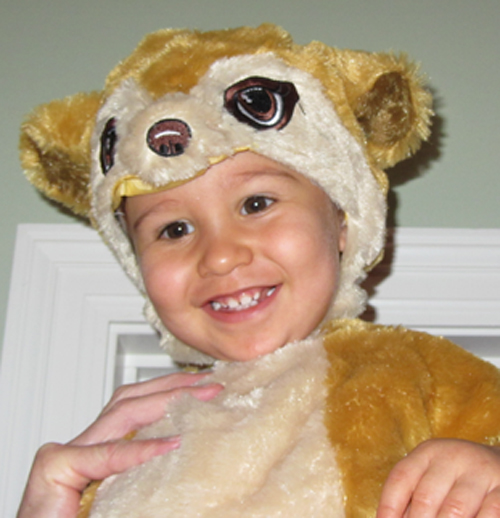 ---
GONE IN 68 SECONDS
November 27, 2013
For one week-end, fifty-eight minutes, and fifty-two seconds it was a good weekend. But that last 01:08, as Tom Brady marched his Patriots down the field, the weekend was lost. It has now been consecutive loses on the annual Saints Road Trip, this year to the New England Patriots. However, my road record stays a respectable 8-4.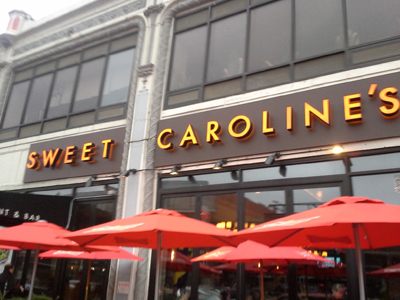 Nice alone time for Brunch in the North End. Not at the Sox game, but was reminded of back home.
It was good weekend to hang around Boston, especially around Fenway, as the ALCS Game 1 was Saturday night. It was also great to find a cool bar, The Baseball Tavern, which housed 3 floors of Tiger fans watching the Tigers take care of Florida. But I needed something else, some kind of buffer, as I met up with Beth, Mary & two of their girl friends in Boston. A Ernie. A Michael. A Caroline. Even an Anthony! Somebody else! However, I did break away on my own several times for some sanity. However, Caroline was there in Fenway, in spirit.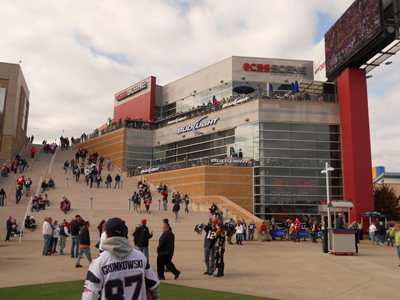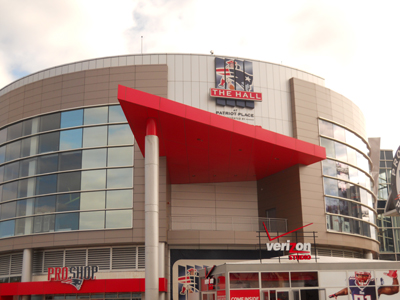 CBS Scene at Patriot Place across from the stadium. The Hall...., Team Store & Hall of Fame connected to stadium.
As we don't want to relive the game, I'll leave that part out. I will say the Pats have a great stadium; however it's 45 minutes outside of Boston, in the middle of nowhere. I guess they had no intention of ever hosting a Superbowl. One thing about being secluded, that's leaves lots of land for fans to tailgate. Even their RV section was somewhat "LSU-ish," but on a slightly smaller scale. They did have a great four-story bar outside the stadium, CBS Scene, overlooking the open end. And the stadium itself was very nice! What about the Boston fans you ask? I thought they were great, but my travel companions might have a different opinion.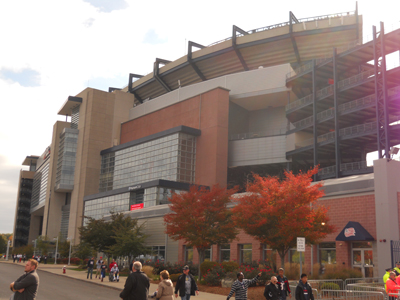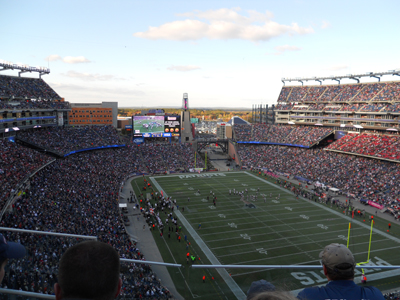 Gillette Stadium... Home of the New England Patriots. View from our seats.
So where to next year? Well, we do have exciting cities to choose from like Detroit & Cleveland! Or go old school like Pittsburgh. Or to one of my favorite cities, Chicago. Or maybe even to the only NFC South stadium I haven't been to yet, Carolina.
---
FIND THE ANSWER...IN A BOOK!
November 10, 2013
An impromptu, mid-summer trip to City Park brought some excitement to Colt's weekend. After deciding he may be too small for City Putt, we strolled over to his first visit to Story Land!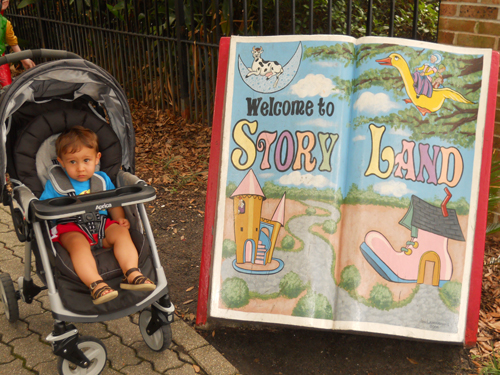 Colt had many highlights during his visit. He felt like he was in Story Book Village with Wyatt from Super Why! He got to "high-five" a possum from some story I don't know, went into the belly of the whale with mommy, rode the cow jumping over the moon, climbed to the top of the castle and did many other adventurous things! However, he did wonder why the Old Lady in the Shoe was yelling at him though. Maybe she was yelling at Daddy for jumping under the misters with that little boy (don't ask).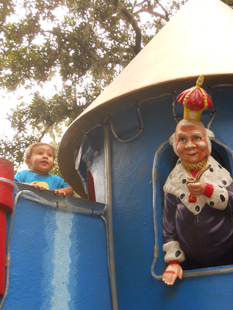 At the end of the day Colt got to drive the fire truck, which was a horrifying experience to Daddy! We may have to wait 16 more years before he drives again!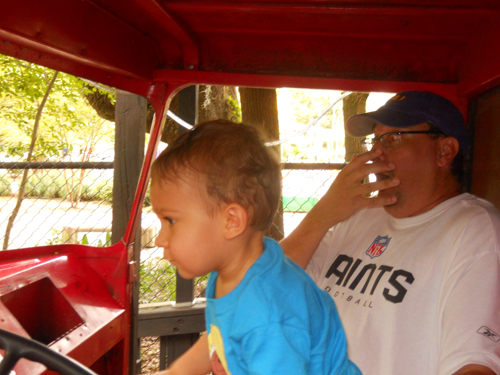 Colt will be back soon, as he passed on the carousel & train, as he knew Granny would be very upset if she wasn't there to do it with him.
---
PLAYA del JUST GET AWAY
November 9, 2013
It was the year 1 A.C., After Colt, and it was time for just the two of us to get away. Thanks to a free "reward" trip compliments of DAP, and a few months of Caroline preparing for the "seperation anxiety," it was off to the Royal Hideaway Resort in Playa del Carmen, Mexico! Our goal for the trip was just to relax, so we did! Our five days in paradise included just laying by the pool, eatting & massages. Plus one little trip to downtown Playa. Of course Caroline had to deal with the other 20 DAP employees there, but she made a few friends.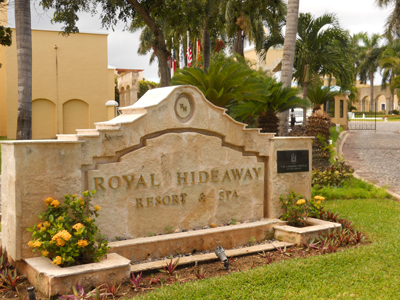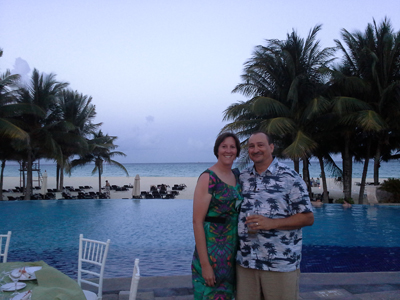 The beach & resort grounds were beautifull, including the view from our room balacny. Along with five pools and six restuarants, it was easy to escape the DAP'ers when we wanted too.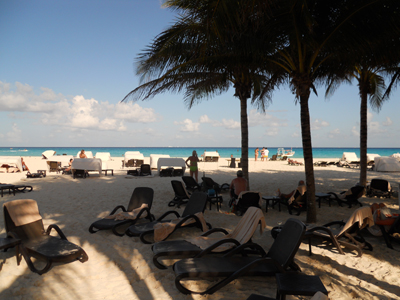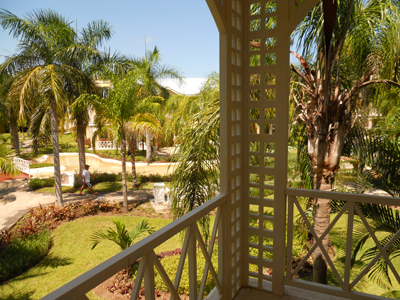 The meals at the resort were excellent, like at our private table below at the Japanesse restuarant. As they say, the food at the resorts are safe to eat. Then there are places like Los Ranchero's in town! Maybe the fact that no one else was eatting here should have given us a clue! The food was good. Service was great. Prices were reasonable. But oh..... the Montezuma's Revenge when we got home was a different story!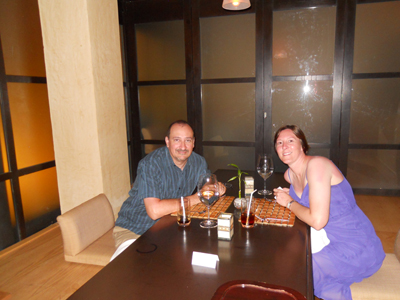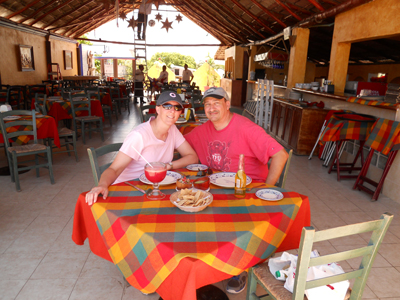 It was great to get home though, and what could be better then seeing Colt running towards us as we exit the concourse? Well, it would have been better if he ran to us, and not keep going, running past us!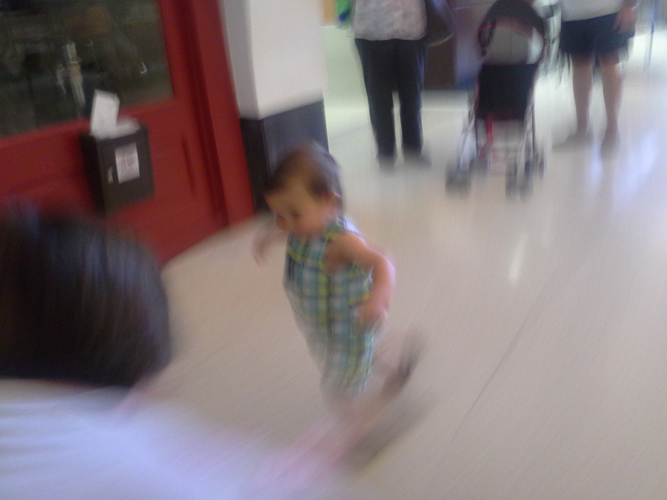 ---
ONE TO GROW, AND COUNT THE CANDLES AND BLOW
November 8, 2013
Yes, it's November and you are probably wondering, "Isn't Colt 1 by now!" Yes, he made 1 years old back on June 29th! Colt celebrated the day with a party at the house with some family and close friends. He was very excitied to finally hear the Birthday song for him, not everyone else like he hears on Sprout everyday.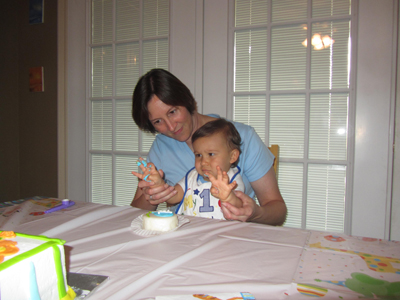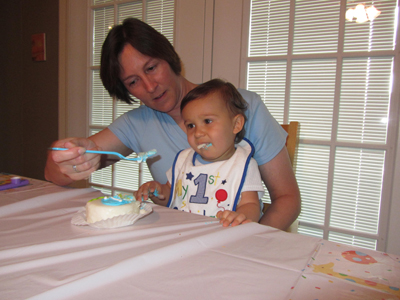 Colt was glad to see that it's not only Christmas that he get gifts, but birthdays are just as good. He has now claimed that December & June are his two favorite months!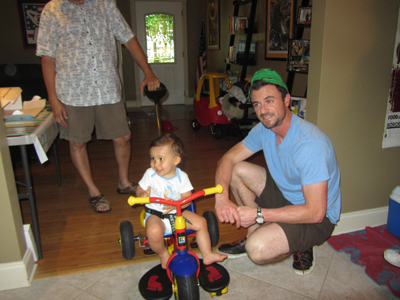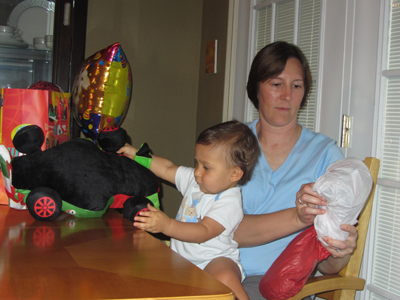 Colt would like to thank everyone who came and everyone who got him a gift. He hopes to see everyone again next year!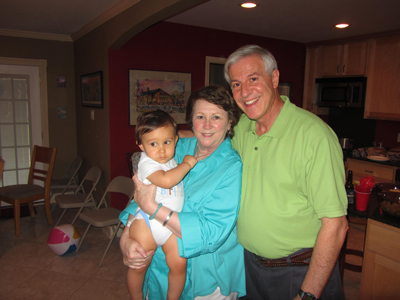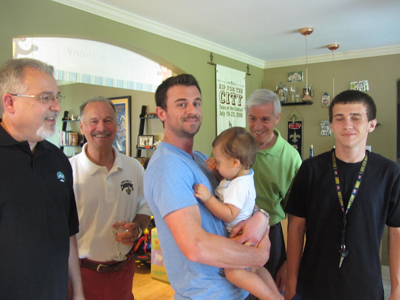 Lastly, Colt would like to thank Nanny for his brand new car! He was super excitied to see that his car was as big as, and as fast as, Aunt Ann & Uncle Joe's car!
---
SPLISH SPLASH
August 25, 2013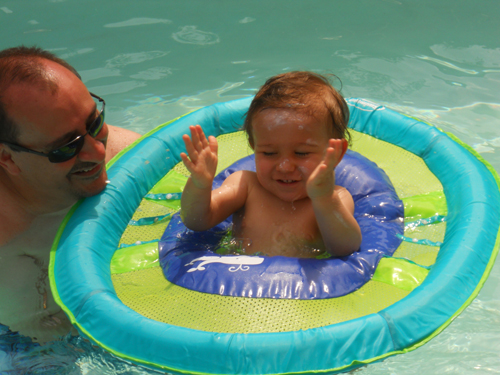 We need to play a little catch up here, as a lot has happen since Colt's visit to LSU. First, we go back to June, the day before his birthday, when Colt hit a pool for the first time in his 364 day life! He had a great time splishing & splashing. He also enjoyed just floating around, taking the top off, or just playing with his toys. It wasn't long before he found another pool to crash and he can't wait until he's a bit older so he can take swimmign lessons.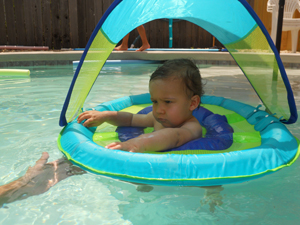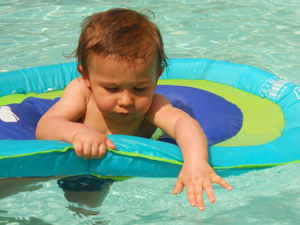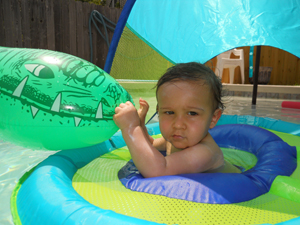 ---
OFFICIAL VISIT
July 5, 2013
Colt recently made his first "official" college campus visit. So, what better place to start off then the beautiful campus of Louisiana State University? After a little lunch at Boutin's, he took a quick tour of the campus and the sports facilities. As you can see, he also took a little break at the Student Union to read the latest issue of Tiger Rag.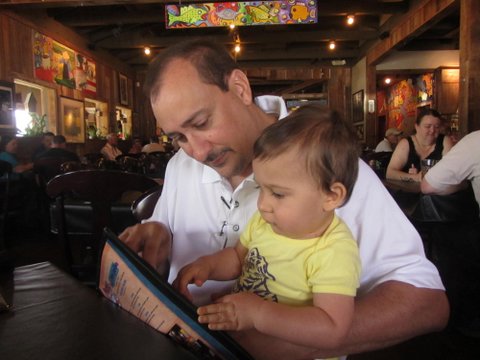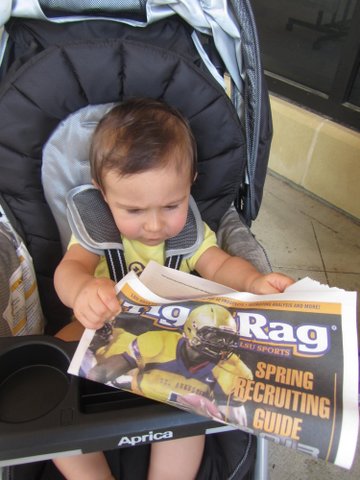 One thing that Colt thought was very interesting is what he saw at an exhibit at the Union. He learned that his Great Grandfather's Cousin, Nick LaRocca, was the person that composed the song Tiger Rag! He was very impressed and felt close to the university. After hearing that song many times watching games with Daddy, his demanded his next stop was to go see Tiger Stadium. While there, he looked it over, then gave it a "thumbs up!"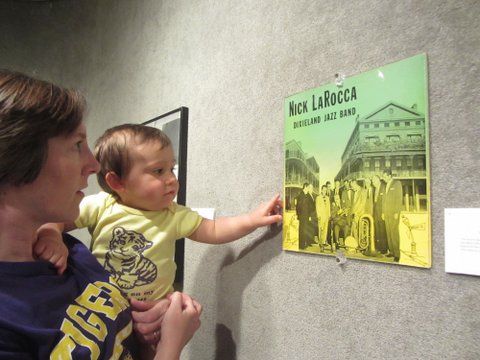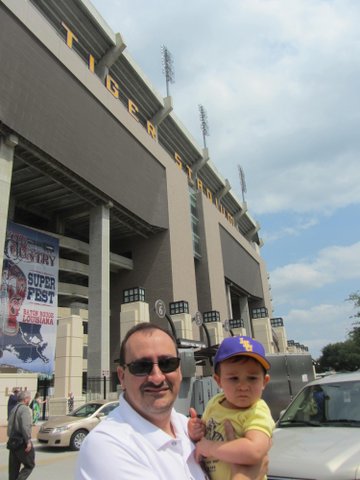 While visiting Tiger Stadium, Colt might have had his best experience during him campus visit…. Seeing Mike the Tiger! However, he was a little disappointed as Mike relaxed under the trees in the shade across his habitat. It was a very hot day, so we really couldn't blame him.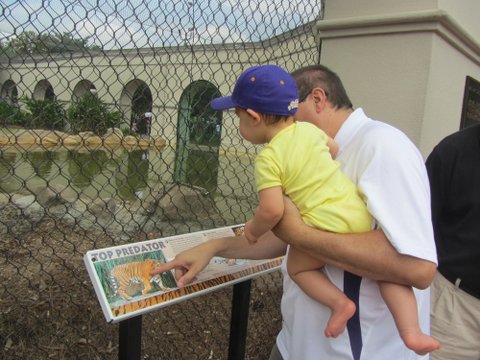 Colt was seen weeks later riding around in a LSU Baseball outfit, however he has not committed to LSU at this point. When asked about it, he had no comment and walked off.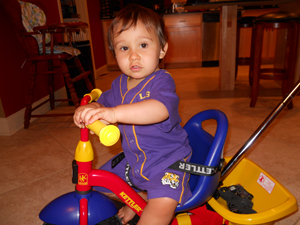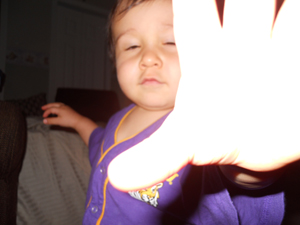 ---
BRAIN FREEZE
May 11, 2013
There are a lot of new taste for a young foodie like our Colt. Things can be sweet, or more tart like peaches. They can be solid, or more runny like milk. They can be soft, or crunchy like a Puff. And they can be hot, or more cold, like......
... Ice Cream!
---
THE FOURTH WHEEL
May 10, 2013
The toll of the past ten months started getting to Josie. She wasn't the baby anymore! She starting acting out a little. Crying at night. Barking more. However, more of her "rebel" side came out last week, as she tried to draw more attention to herself. Josie decided to go out and cut all her beautiful border collie hair! Well, it actually worked! It seemed like we had a new dog in the house, and Josie has loved all the attention. We're sure it will be short lived, and we will see how she reacts when Colt gets all the birthday boy attention soon!

---
PRESIDENT COLT "PEACHES" DAVIS
March 30, 2013
Colt wasn't to sure the first time he ate peaches, but he has grown to love them....
---
A LITTLE OFF THE SIDES PLEASE
March 10, 2013
There is a lot that goes into getting your first hair cut. First, you need to pick the right salon and stylist. After some research and recommendations, Colt selected Mary Catherine at My Salon Suite. Second. you need to make sure they use the correct shampoo. Colt recommended Johnson & Johnson because he didn't want any tears! And lastly, you need good reading material when you are getting your hair dry! Colt say's, "There is nothing worst than reading a old People magazine!"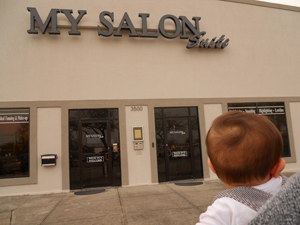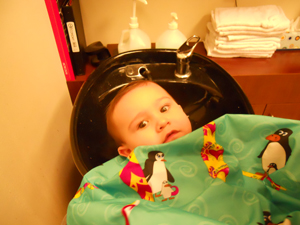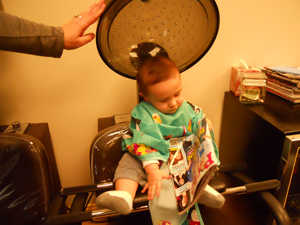 As can be expected, Colt did great for his first haircut! And in the end, he was even more handsome.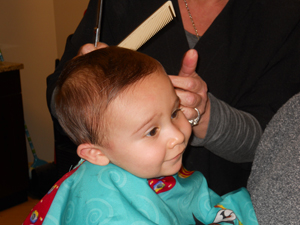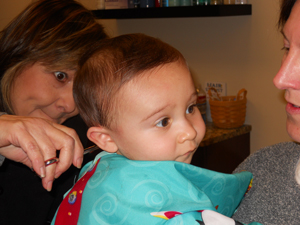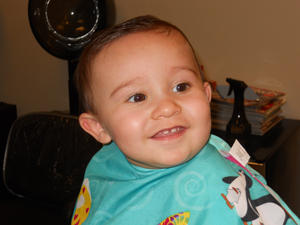 ---
COLTY GRAS... HAIL COLT
March 9, 2013
Due to some Daddy work issues, Colt missed the ladies of Muses, but started his Mardi Gras off stong on Friday. It all started with Colt going to his first bar! At the average New Orleanian first-timer average of 8 Months Old, Colt parked him self at Henry's Bar on Magazine, had a few bottles and people-watched the crazys. Shortly after, Colt's watched his first parade ever, Le Krewe d'Etat. Ready for more, it was off to Endymoin on Saturday.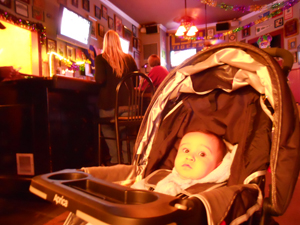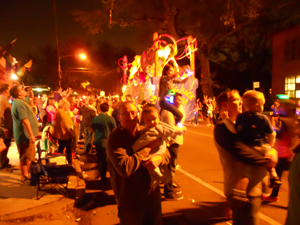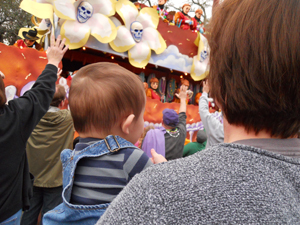 Endymoin was a big day for Colt. First, he got to go on a float with King Joe from several years ago. Hopefully the royality will rub off on him and Colt can rule the streets down the road. Next, Colt discussed school choices and career paths with The Citadel Cadets. Overall, Colt had a good day!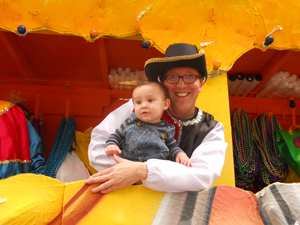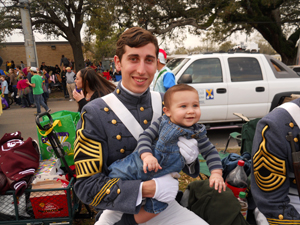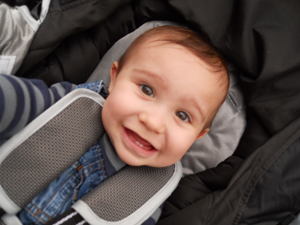 Sunday was a long day for Colt... three days parades by Henry's Bar, then off to Napoleon for Bacchus. However, it might have been even longer for Mom & Dad, as they carried him 12 blocks! Anyway, Colt was in cool-down mode later that evening, going shirtless. Then came the big day... Mardi Gras! Panda Colt hit the street! And what would Mardi Gras be if you didn't see King Rex.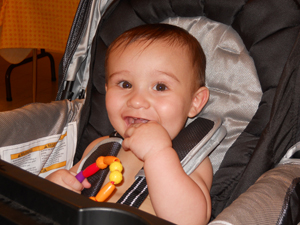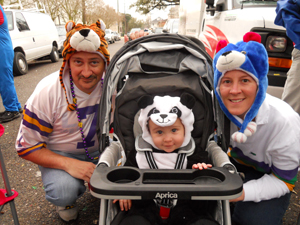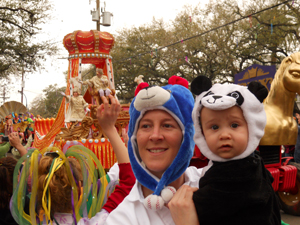 ---
SOMEONE NEW ON THE NICE LIST
February 15, 2013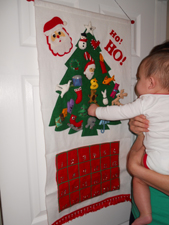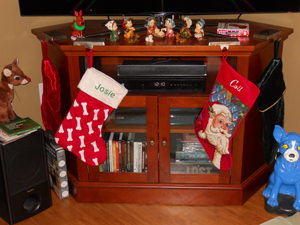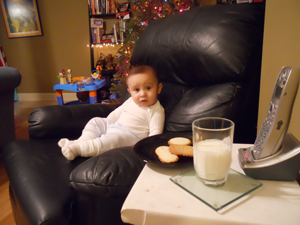 It was the morning before Colt's first Christmas, so it was time to put on the last ornament on the tree that Grand Ma Davis made. His stocking was hung under the new Samsung 55" HD/3D Smart TV, right next to Josie's. And the milk & cookies were left out for Santa, despite Colt having second thoughts as he was eyeing up the cookies. Everything was done, now it's time to go to bed and wait for Santa!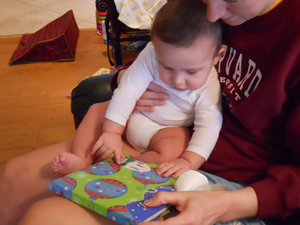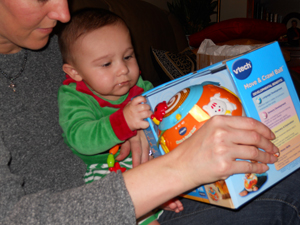 Christmas did not disappoint; as family, friends and Santa treated Colt right! He knows he hasn't experienced every Holiday yet in his short life, but he has a sense Christmas may be his favorite.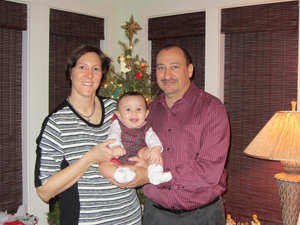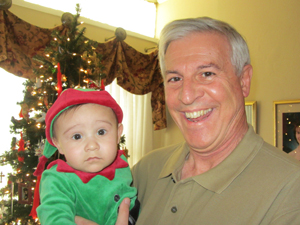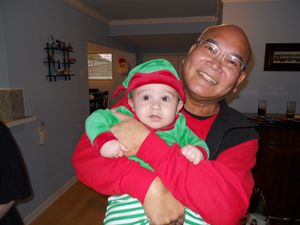 ---
BISONS, BEARS & BRONCOS... OH MY!
February 24, 2013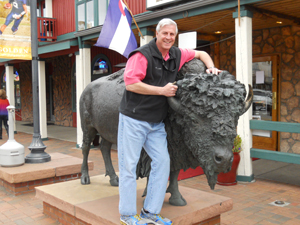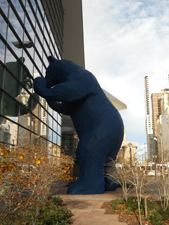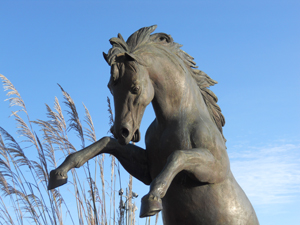 (PICTURED ABOVE: Anthony takes the Bison by the horns. Bear checks out the Convention Center. Bronco on the attack againbst Who Dat's.)
It was a long season….. from the Brees contract, to the bounty scandal, to the Payton suspension, to the law suits, to ending the season with the Falcons winning the division again! But before we move on to the 2013 Saints Season, let's look back to the annual away trip, this year to the Mile High city.
During the offseason, it seemed like a good idea. Why not make the trip to Denver to watch our beloved, play-off contending Saints put a whipping on Tim Tebow and the Broncos? Oh, how things had changed! First, the "commissioner" decided to suspend our Coach, GM & players. Then second, the Broncos decided to sign Payton Manning and jet Tebow off to New York to suck over there. That was not a good combination for our "Who Dats."
With Caroline staying home with the baby, we substituted in the father-in-law for the trip, along with a group of other friends. The trip started out good, as Anthony, Kasey and I met the group upon our arrival in Golden, CO for a little lunch and Bison Burgers at the Capitol Grill. Afterwards, we meet with Adolf and took the Coors Brewery tour. Then the next 24 hours was just hanging around the LoDo area, until game time!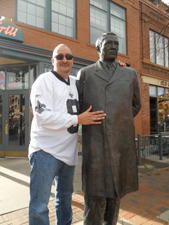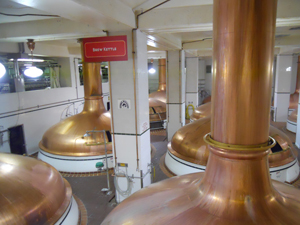 (PICTURED ABOVE: Howdy Folks, welcome to Golden. Glen & Adolf Coors. The Coors Brewery.)
The Who Dat place to be was Stoney's Bar & Grill, so that was our meeting place for the group, which also included Mary, Ernie, Beth & John. Even Colt got to see Daddy on the live streaming from the bar! Slowly we all arrived, with Ernie texting out a "hi" early on. We did our pregame drinking there, and even bought tickets for a Stoney's Shuttle & Tail Gate package! Beth even helped sell tickets! Eventually we made it to the stadium and our "tail gate" area, where they didn't anticipate how much beer the group from the Big Easy would drink. But we didn't need much beer, as we even got Anthony to partake in some Butt Crack! As you can see, he was really enjoying it.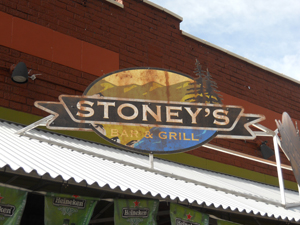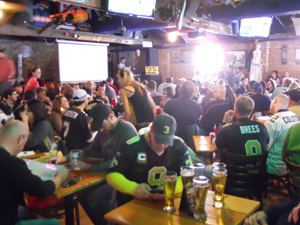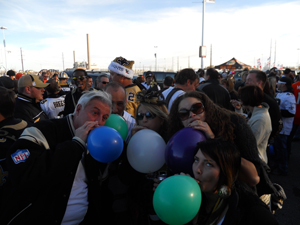 (PICTURED ABOVE: Stoney's, Walk-On's West. Who Dat's invade Stoney's. Anthony is introduced to Butt Crack.)
The next twelve hours took an ugly turn, as we entered the Mile High Stadium on that cold, October night. Shortly after knotting up the game at 7 in the second quarter, Brees threw one of him many interceptions of this past season, and the Broncos just pulled away to a 34 to 14 victory. Deflated by the game, we headed to our shuttle, which never came back to get us. Cabs could not be found. So we took matters into our own hands! What could only be described as a "profanity laced public bus hijacking," we somehow all made it back to the 16th Street Mall! We celebrated our transportation accomplishment back at Stoney's, with food on the house courtesy of Anthony #2.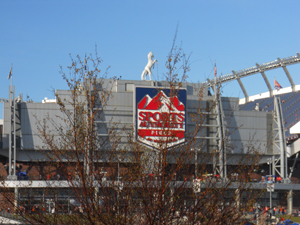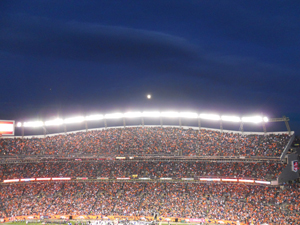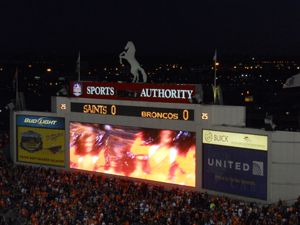 (PICTURED ABOVE: What I still call Mile High. Moon over Mile High. The score when it was still close!)
We ended the trip on Monday in well-rounded fashion with some Batch 19 @ the Bridgewater Grill in Golden (Culinary), checking out Coors Field in LoDo (Entertainment), and watching them make some money at the U.S. Mint (Educational)!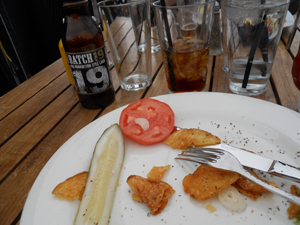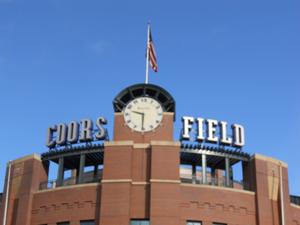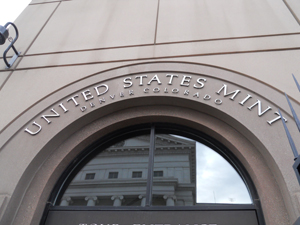 Where to next year? Seattle? Carolina? New England? New York? We'll see!
---
BAN SE DUOC BO QUA CHA VIHN
February 10, 2013
Father Michael married us on April 17, 2010. He was there on June 29, 2012 when Colt was born at East Jefferson Hospital, and later Baptisted him. But more than that, he was a very close friend. We shared many meals together, as well as our recent vacation. You will be greatly missed in the lives of many, especailly your favorite little buddy, Colt! We will tell him all about you when he gets older and asks, "Who is that Vietnamese guy in all the pictures?" Rest in Peace Father Michael.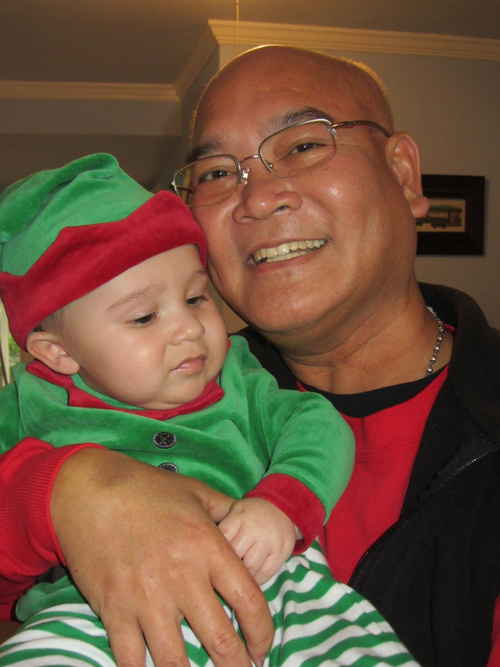 Father MichaelJoseph Vinh Ngoc Nguyen
Born May 9, 1957 - Died January 25, 2013
---
QUICKER, BETTER
February 1, 2013
To the 1000's of people who said our web pages loads up slow and needed to be faster, your wish is now granted! Thanks to a tip from Cousin Joseph, pictures will now load up 100x times faster (or something like that)! In additon, the pictures are now much clearer.
Also to speed things up, past years have been archived, which you can click the links on the bottom.
Enjoy the new experience as these changes are being made!
---
WHAT'S UP DOC?
January 28, 2013
It's about time for a general Colt update as we just past the six month point and a visit to the doctor. Everything looked good during his visit to the doctor, now weighing in at 19 pounds, 10 ounces! Colt was also given the go ahead to move on from the bland foods of cereal & formula, to the world of fruits & vegetables! This first weekend brought apples & carrots to the highchair. As expected, Colt just eats everything in front of him. He especially took a liking to the carrots, which tells us without a doubt he has Caroline in him! Colt also answered a question that I was wondering, "Why do we have so many bibs?"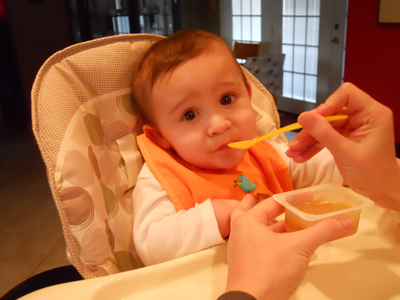 ---
MEMBERSHIP HAS IT'S PRIVILEGES
January 25, 2012
There are rumors that there is an application on the way for Colt to be a member of the Big Al's Fan Club. Well, we don't need that, don't want that! Why? Because Colt is already an official member of the Mike's Kids Club! So he will enjoy all the privileges that comes along with that! Being free admission to LSU Volleyball, or trick-or-treating on Sorority Row on Halloween. Go Tigers!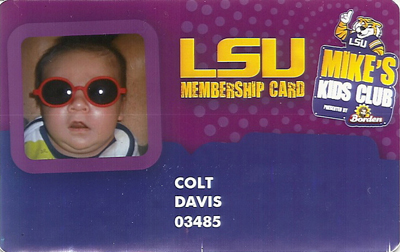 ---
MERRY CHRISTMAS!
December 25, 2012
Merry Christmas from Glen, Caroline, Colt & Josie!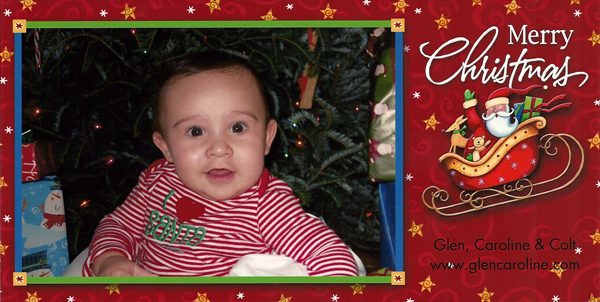 ---
DRUMSTICK ANYONE?
December 24, 2012
Before we hit the BIG holiday tomorrow, we don't want to pass over Thanksgiving, or what Colt calls the "non-presents" holiday! So we hope you had a good one, and here's Colt in his Thanksgiving best...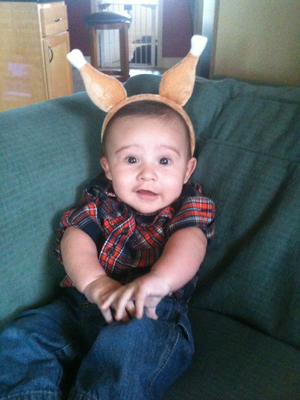 ---
IT'S A BIRD.....
December 23, 2012
No, he wasn't a bird. He wasn't a plane. He was Superboy! After careful deliberations, it was decided that Colt would be Superman for his first Halloween. So we loaded the car and went to Aunt A's house to go trick & treating, which might be a hot spot for candy, based on vans dropping off "inner city" kids right down the street. We made a trip around the neighborhood, which included a block on Metairie Road with closed businesses (nice, right? ). In the end, Colt got some good candy, which unfortunately, he was unable to eat due to his age and having no teeth. Thus, I had to help the little bug out! It was a big night for our little superhero, who eventually fell asleep. Fighting crime is hard business.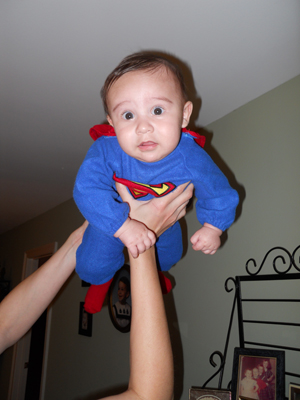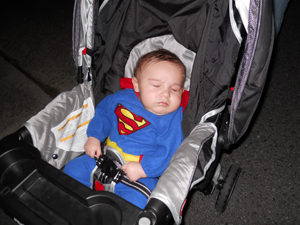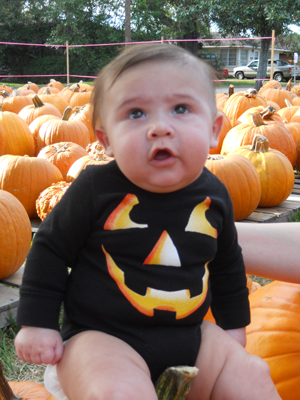 Before the big night even came, Colt was on the quest for the Great Pumpkin! So we researched the best Episcopal school with a pumpkin patch to visit. (Why do the Episcopalians have the market cornered for pumpkin patches?) Conclusion: We found no Great Pumpkin, as well as no smiles from a tired Colt!
---
EH - SEXY LADY, IT'S COLTY STYLE
November 30, 2012
I don't think we need words for this article....
Personalize funny videos and birthday
eCards
at JibJab!
---
I FOUND OUT, LONG AGO, (ohh ohh ohh ohh ohh...)
November 26, 2012
It was time for the first Family Trip! Don't get too excited, it was just a house in Mississippi on the Biloxi River. Granny sold it to Colt as 'we are going to Europe,' but I don't think he bought it. So along with Granny, Papa Rocca, Josie and even Father Michael for a night, we loaded up the Taurus. And the Rogue. And the Camry. And the FJ Crusier. And the Frontier. Yes, every adult had their own car! We could have saved gas and flew to Europe together!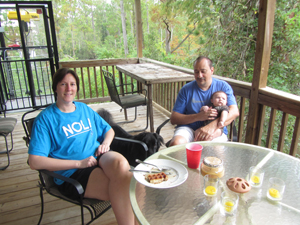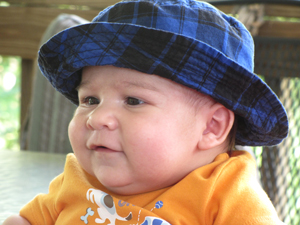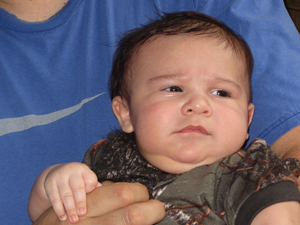 Besides a long weekend getaway, the late September trip was the last fling before Caroline went back to work from maternity leave, and was a celebration of Colt's 3 Month Birthday! Colt just took it easy most of the weekend…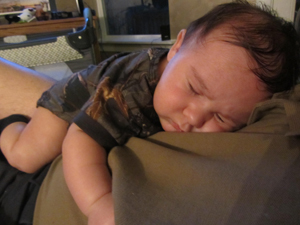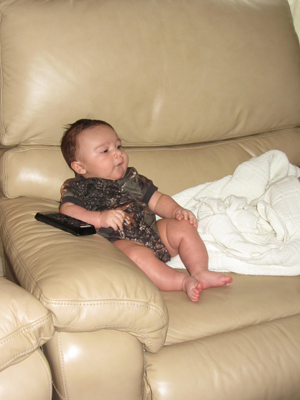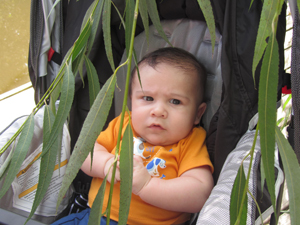 Other highlights of the trip…
… Caroline caught a fish!
… Josie was afraid of the steps, so we had to take her in the elevator for each potty break.
… Glen cooked waffles.
… Josie couldn't be bribed to use the doggie door!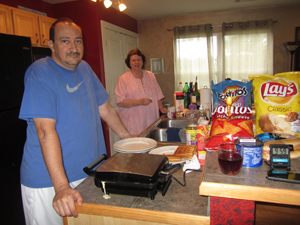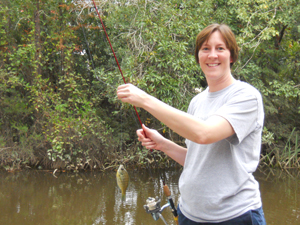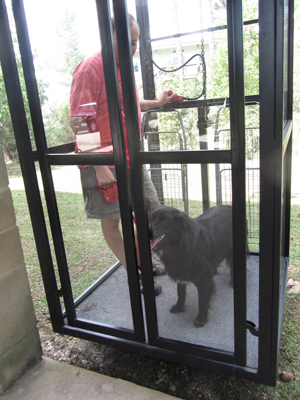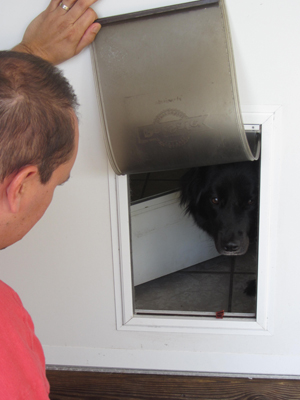 ---
LITTLE PILGRAM
November 22, 2012
We still have many stories to catch up on, but we needed to stop and wish everyone a Happy Thanksgiving! Colt was so excited last night, he couldn't stop laughing! So we had to take this video. Then this morning, he put on hs best clothes to go eat Thanksgiving dinner!
Since it is Thanksgiving, of course we have nothing more to be thankfull for then our little, healthy Colt Anthony! At this time we love to give a little update on the peanut. He was given all "A's" last week at his four-month doctors visit! He's now up to 17 lbs. 9 oz.! Also, he's now 2' 1" tall (doesn't that sound better than 25"?). In addition, Colt has hit some milestones recently! On November 10th, he rolled over for the first time! And last Saturday, he ate cereal for the first time!
Colt is ready for this day to be over, because that means one thing! Christmas Season starts tomorrow!
---
COLT, ELECTRONICALLY
November 18, 2012
Colt does already own the rights to coltdavis.com, but it may be years before he sets up his web page. However, he is happy to announce that you can now email him @ colt@glencaroline.com! So if you have any comments or questions for Colt, or even need any advice, drop him an email.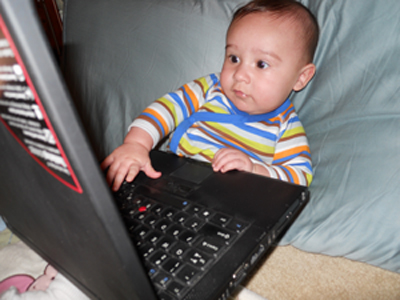 ---
PROSPECT.PICS
November 17, 2012
Since they just announced the dates of Prospect.3, it reminded me that I haven't posted any pictures from Prospect.2. So, for all my 'art lovers' out there, here are a few of my award winning photographs!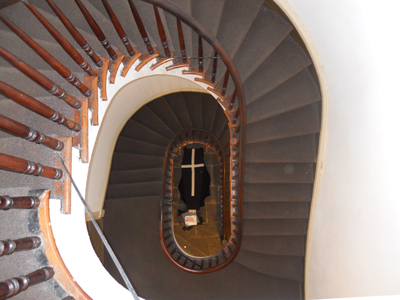 TOP: Sophie Callie's '1850 House' at 523 St. Ann.
BOTTOM: Dawn Dedeaux's 'The Goddess Fortuna & Her Dunces' at 520 Royal St.
---
JOSIE'S THEME SONG: ANGEL
October 16, 2012
The birth of Colt seemed to bring happiness to everyone. How can they be a loser in this situation? Well, there is Josie! But it's not as bad as some people make it out to be. If you ask Josie to paint a picture, you can close your eyes and imagine that Sarah McLachlan song in the background! But in reality, she did lose her "All Access" pass to the house, and now is confined mainly to her room. But she never missed a meal, still gets her Saturday treat, still gets walks on occasion, and was even invited to go on the family vacation! And with fall coming, trips to the Dog Park are on it's way.
Even though she is great with Colt, other than the excessive licking if we allowed her to, it's still best to keep a barrier between them for now. And if you were wondering what their first meeting was like, enjoy the ride on the video!
---
17 YEARS, 10 MONTHS TO 18
October 14, 2012
It's been a quick eight weeks, and here we are, August 29, 2012, Colt at two-months old! He has been a great baby, only crying when he is hungry, and already sleeping seven hours at night! It's been a fairly smooth ride, except for one bump in the road, Hurricane Issac. However, we lucked out as we road the storm out, as we never lost power or cable. Colt took it in stride, actting like nothing was happening. However, he did change his pooping habits from every other day to every three hours! So maybe it did scare the shit out of him! But the only real "baby" was Josie, as she was scared by the wind and had to sleep with Daddy!
We celebrate his birthday with four of our favorite iPhone pictures !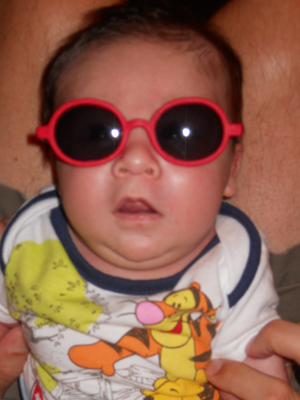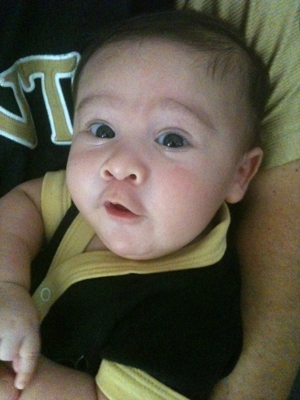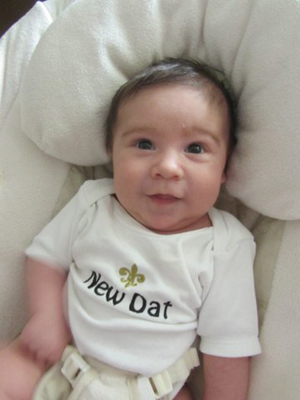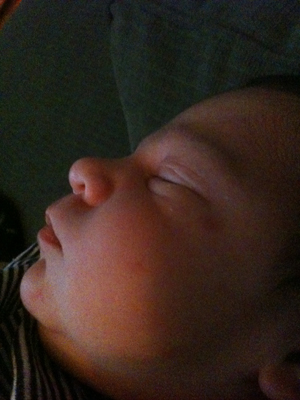 ---
ALL SAINTS DAY
August 5, 2012
After getting ready for the big day with a nice bath, Colt was already to start his day off with his Christening! After putting on his slip for the ride, and packing his dress & bonnet, he was off to St. Mary's Assumption Church to be baptized. We apologized to little Colt for the attire, as he preferred to wear his robe & puppy dog hat, but this was the same Christening outfit that his Papa Rocca wore, years and years ago.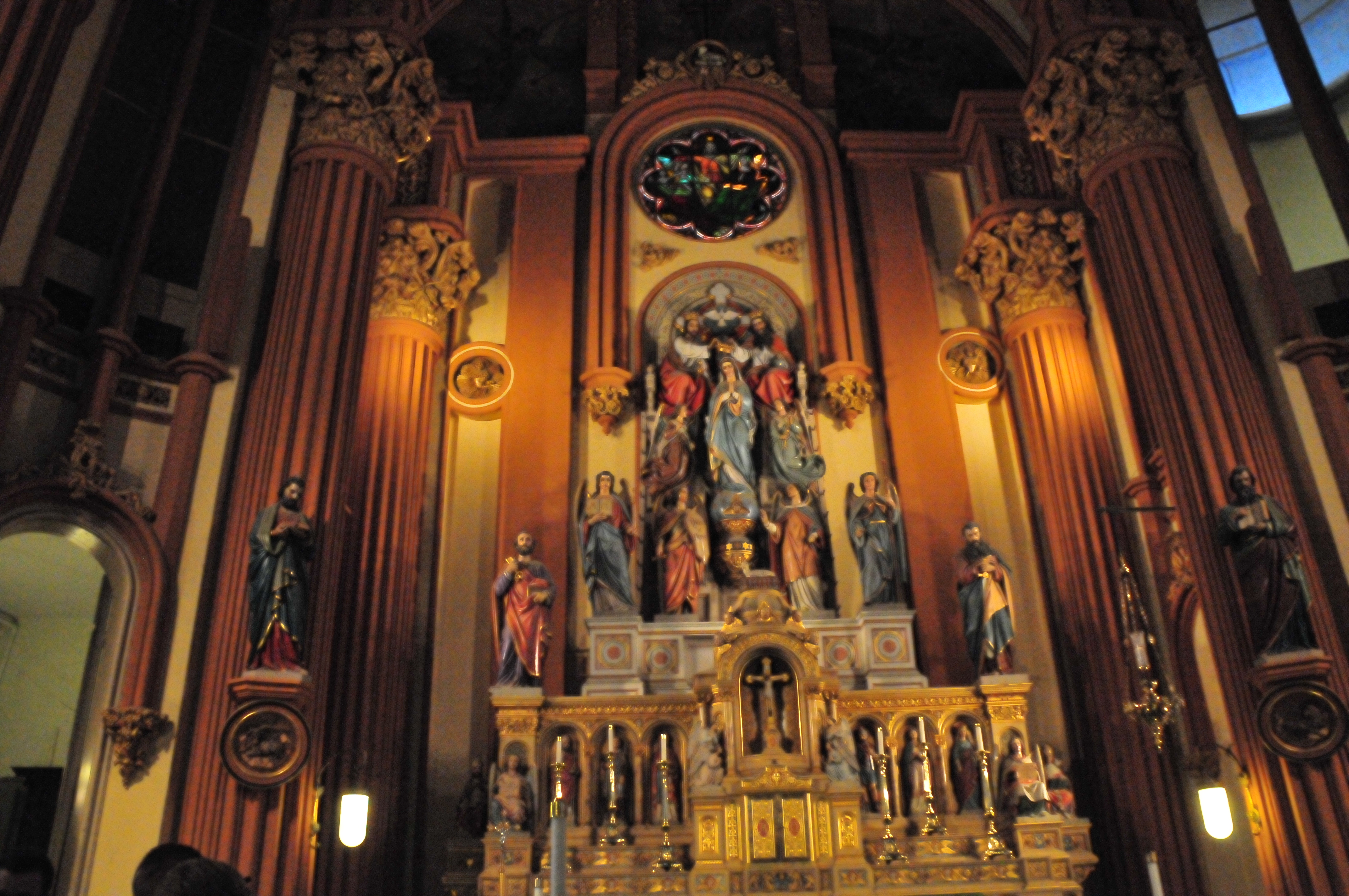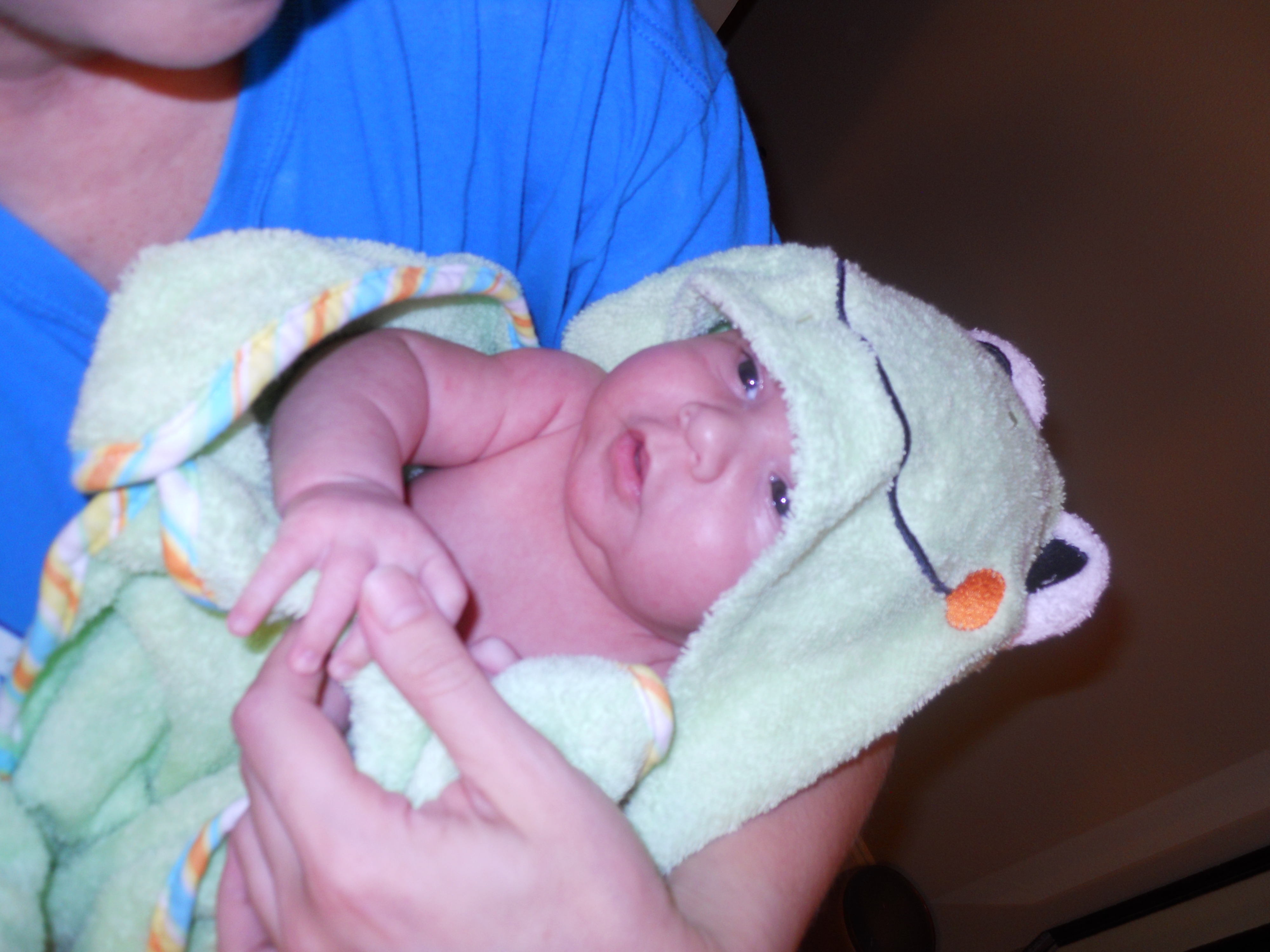 Flanked by his parents in front of the alter, a familiar setting for Glen & Caroline, Colt was joined by his Godparents, Martin LaRocca (standing slightly to the side) & Eileen Smilari (proudly holding the bib)! Colt was all ready to be baptized at noon to shed his original sin, which I am not sure how a boy this sweet has sin at all! However, things changed slightly, as Cha Vinh arrived about 30 minutes late to perform the baptism. So what did that mean? That meant a hungry, crying baby with a diaper full of poo! But Colt pulled through, and we had a nice ceremony.





The baptism was followed by a get together back at the Davis house with food, cake & cocktails. Colt was passed around all day, and even held by Uncle Ronald as Colt has now past the 30-Day No-Hold period!
Pictured below is Uncle Donald taking his turn, and Colt showing off his cake.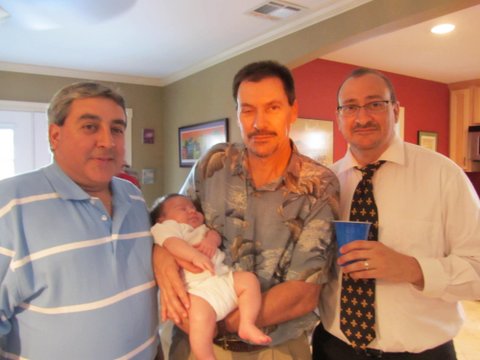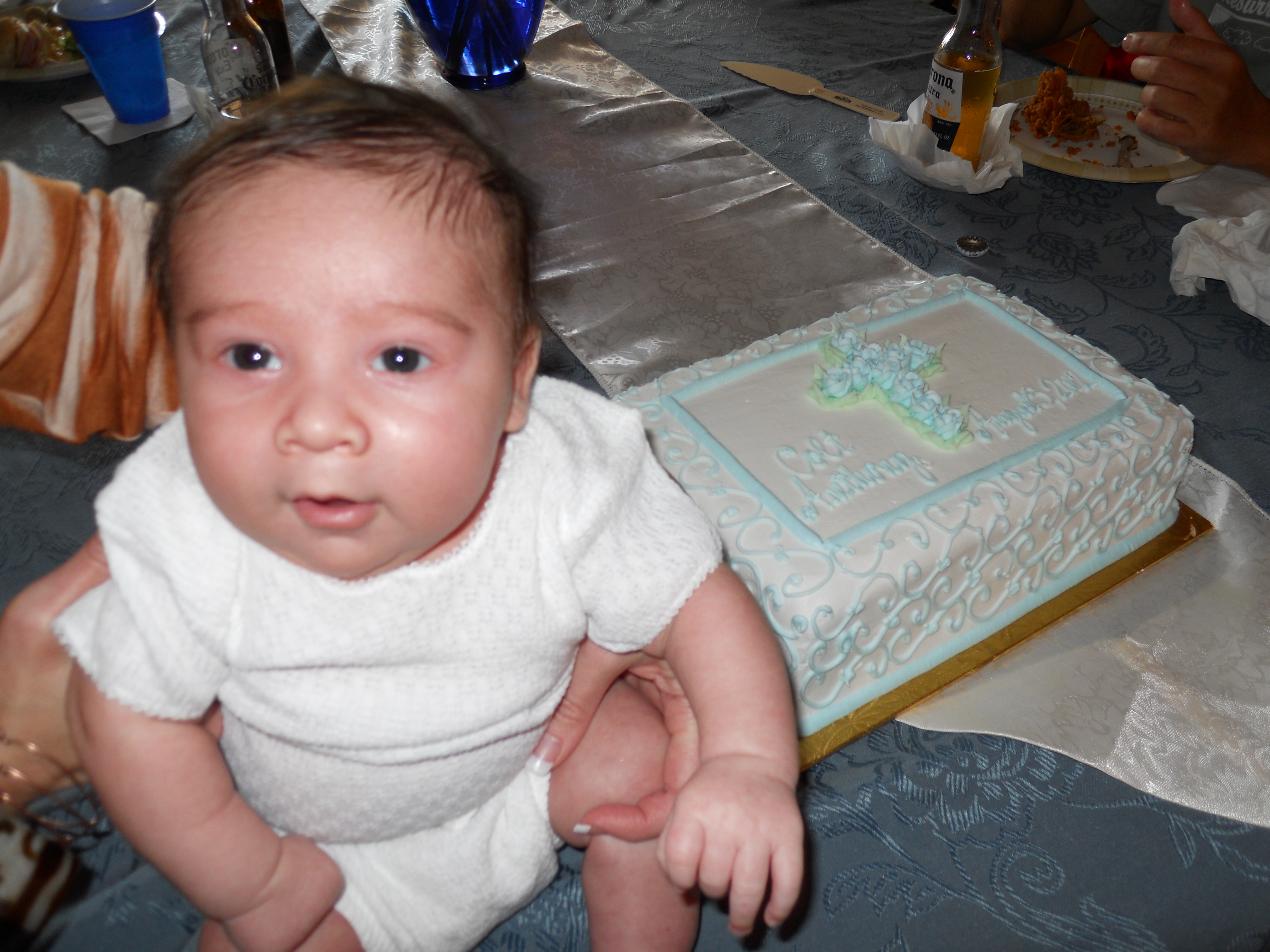 The day was to end by watching the New Orleans Saints playing in the NFL Hall of Fame game, Colt's first Saints game! However, it was a long day for the little man, and he slept right through it!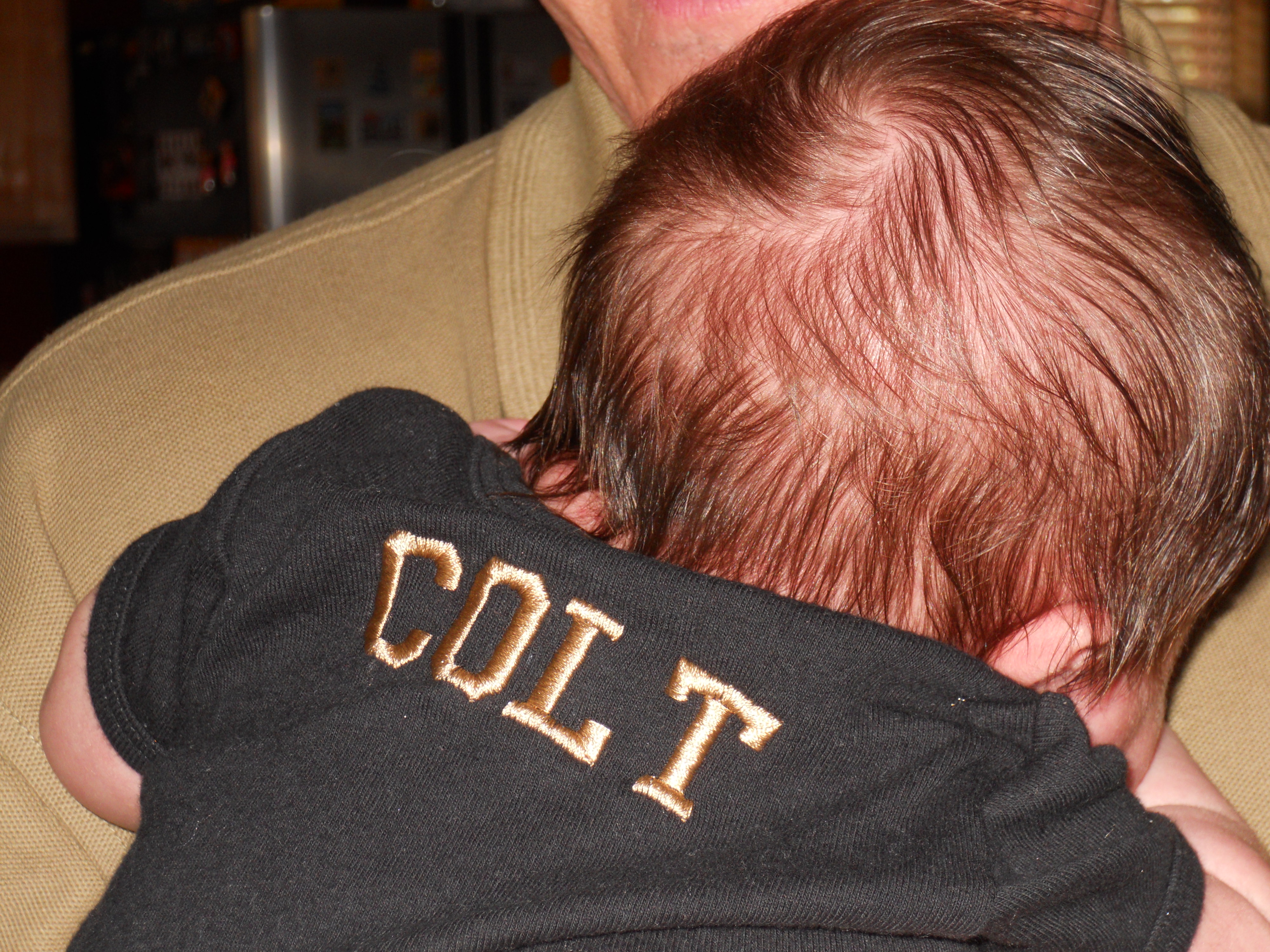 ---
"AND THE TEST SAYS....."
July 18, 2012
The trip to Los Angeles and the July 26, 2012 taping of the Maury Show has been canceled. Glen Davis past early show screenings to appear on one of the popular "paternity test" episodes. However, after comparing one-day old pictures of Glen Davis & Colt Davis, the host, Maury Povich, said their match is in the 100% percentile! "That is his boy," said Povich.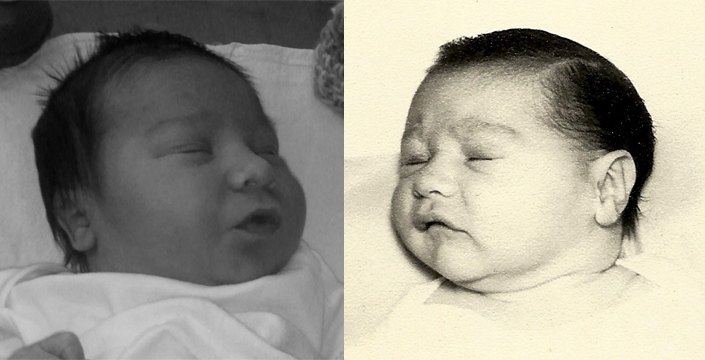 Can you tell the 1-Day old Glen from the 1-Day old Colt?
---
BORN TO WIN
July 13, 2012
The weekend of June 29th was big in New Orleans. Just look at some of the headlines…
"Davis Ready for Life in New Orleans"
"Born to Win"
"Davis No. 1"
Who were they really referring to? Anthony Davis of the Hornets, or Colt Anthony Davis of Glen & Caroline? We like to

think Colt Anthony! As we already introduced, Colt was born on June 29, 2012, coming in at a stout 8 pounds & 13 ounces , which looks good on his 20 ½" frame. Early tendencies point to a southpaw.
To back up, the excited couple enjoyed one last quite dinner out on Thursday, before heading to East

Jefferson Hospital that special Friday morning. Everything went as schedule, and the handsome Colt was born at 12:13 pm. After I cut the cord, we paraded down the hall to introduce him to family & friends. Mother and son had a great birth, and everyone is happy and healthy! Now the only thing we need is for Colt to get a haircut, as his hair was already growing over his ears as he entered the world.

Colt would like to thank the team around him. Mom & Dad. Granny & Papa Rocca. Dr. St. Germain. His future God Parents, Wiki & Martin. And everyone who visited him in the hospital, at home afterwards, send email wishes, or thought of him. Also, he has now gotten over the circumcision thing, so after some thought, would like to thank Dr. Collins.
Two final notes… One, if you are planning on capitalizing on Colt's future fame, you are too late. I had a feeling it would be a boy, and I already own www.coltdavis.com! And two, can you believe that I, the person that has a pool for everything, totally forgot to run a "baby-pool?!"
---
COLT ANTHONY DAVIS
June 29, 2012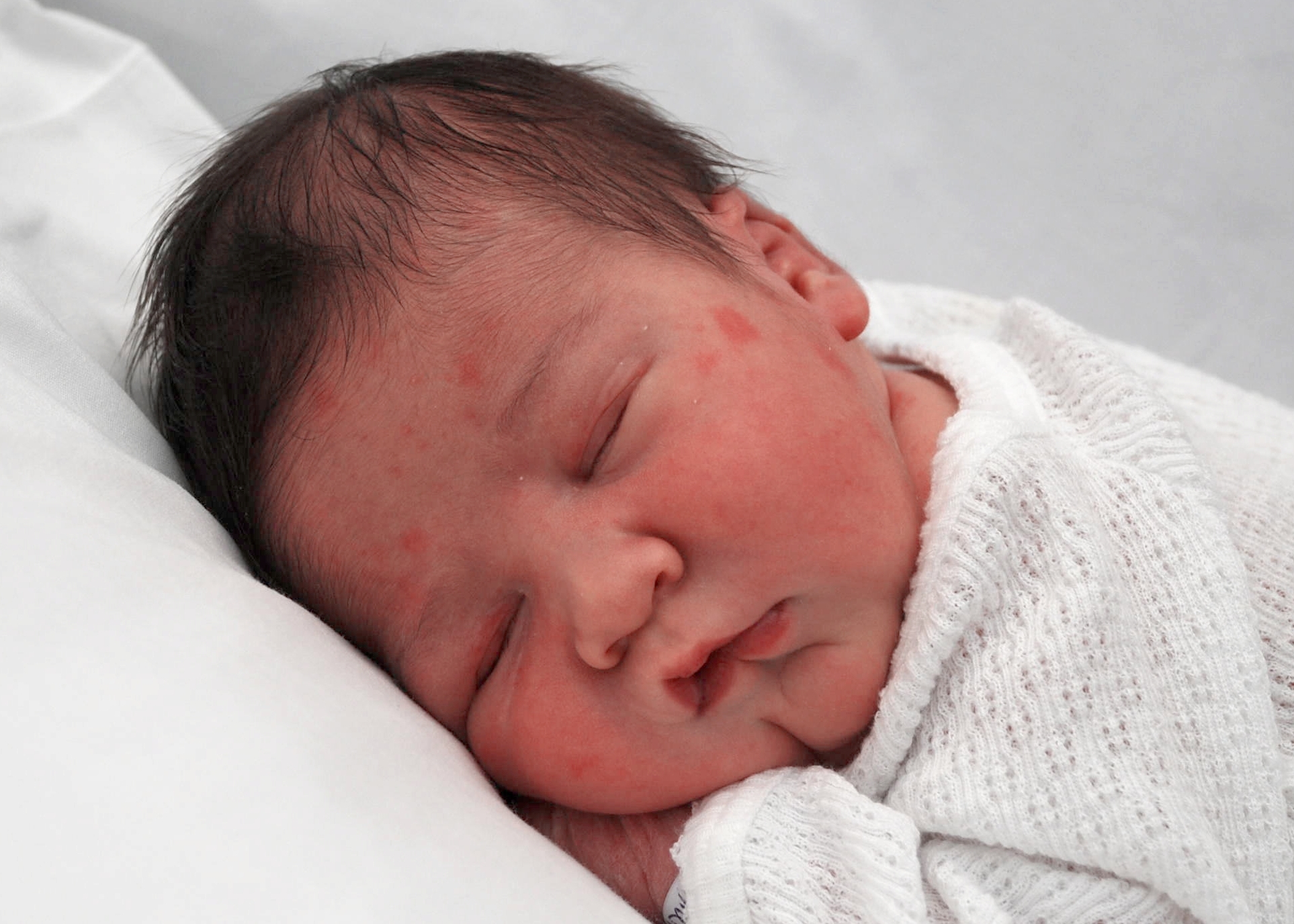 Colt Anthony Davis
June 29, 2012 12:13 PM
8 pounds, 13 ounces 20.5 inches
---
CHILI A HOP, SKIP & 2-DAYS AWAY
June 27, 2012
As we get to the final days before C-DAY, we are just making sure we are prepared! Do we have everything in the overnight bag? Is the Car Seat ready? Is everything in the nursery ready? Well, ready or not, Chili is coming in two days! Our last preparation is how to get to the hospital! Thanks to MapQuest, our .94 mile trek is mapped out!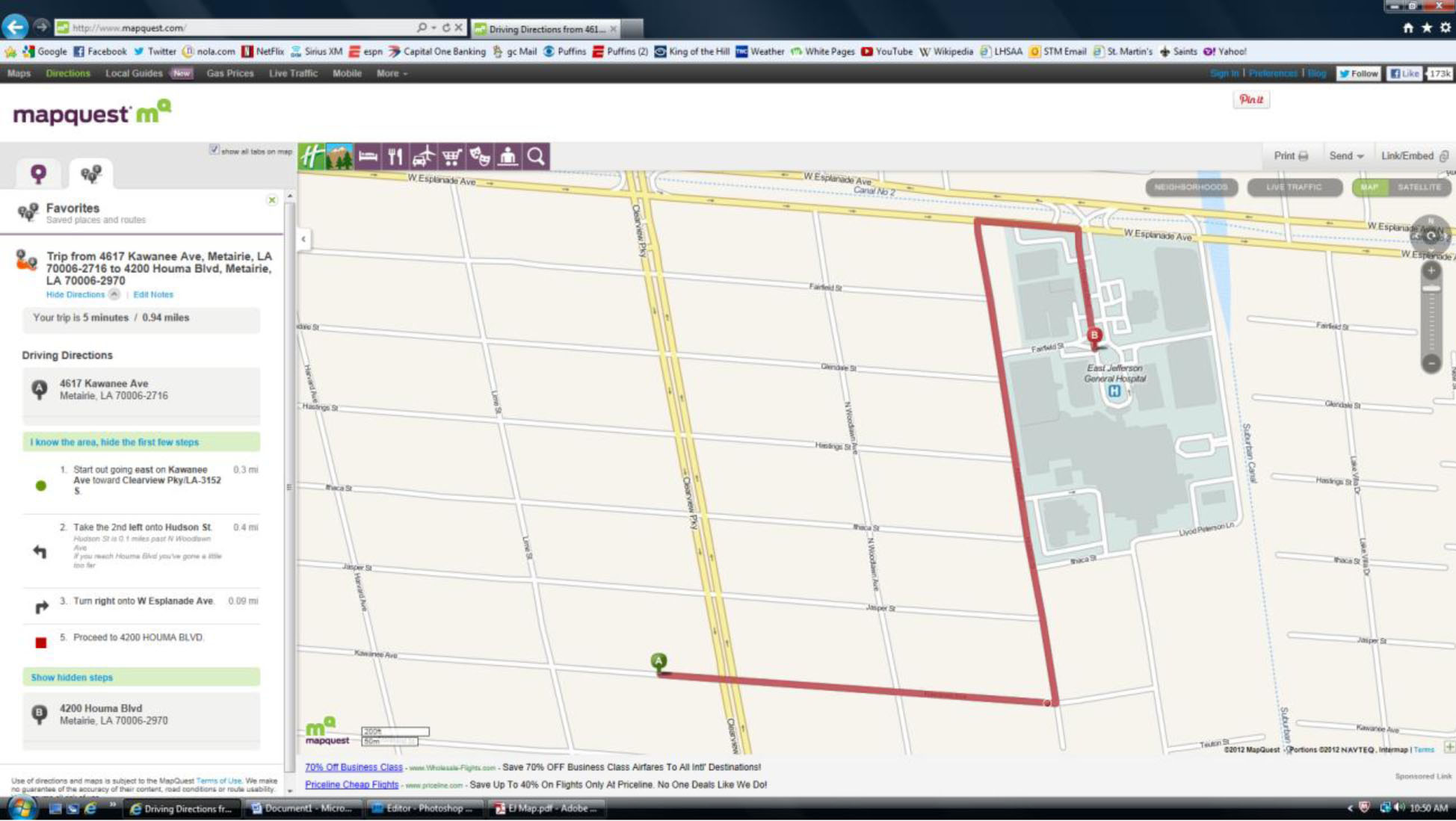 ---
BAYLEN SETS THE SAFTY STANDARDS
June 26, 2012
A lot goes into being prepared when your little one is on the way. We are blessed that we had help making everything safe for Chili's arrival. And who would be best in helping us get ready for a baby? No other than Baylen Brees! He has just been chilling the past two years, but recently he has put his knowledge, and own safety, on the line to help Chili. If you haven't followed the test on Facebook, here is what Baylen did for us....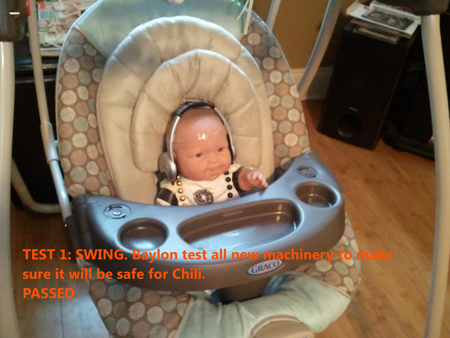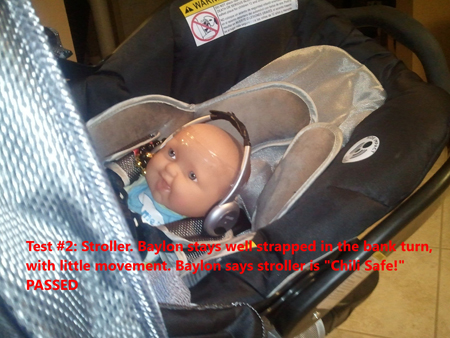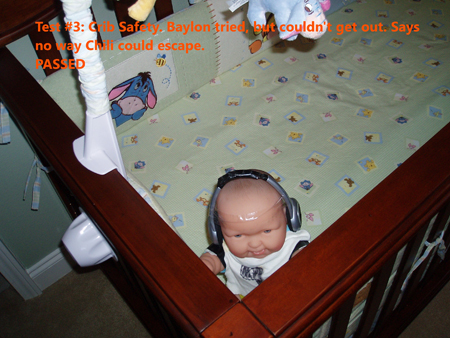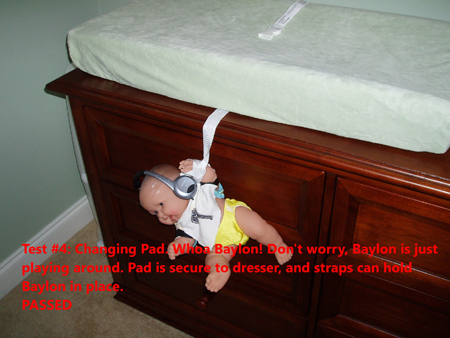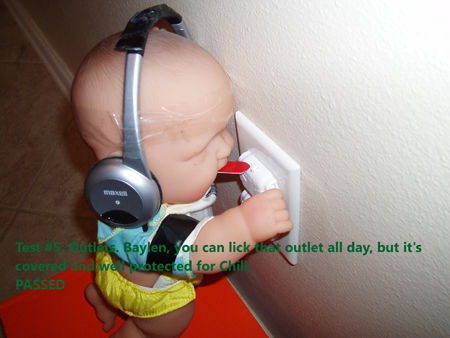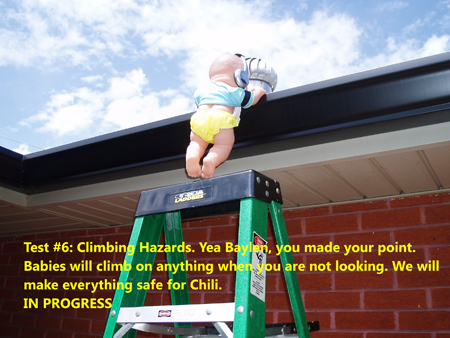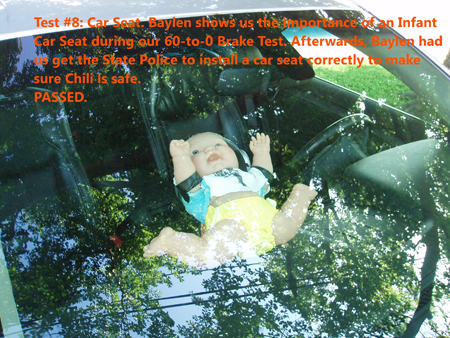 ---
CHILI'S HAPPY HOUR FRIDAY @ NOON
June 22, 2012
It looks like Chili will have a Birthday on Friday, June 29 at noon! Well, more than that, it will also be a Name Change Event, as Chili will say bye to the "pepper-inspired" name and hello to a more traditional name. Currently at over 8 lbs., Chili is running out of room and is ready to stretch its legs and get some fresh air! So a C-Section is scheduled for Friday at E.J., unless something happens before then.
In preparation for the birth, Caroline had her Baby Shower at the beginning of June. I did arrive at the end of the shower,

or should I say party? I never been to one of these before, and was surprise everyone was given "bath salts"
as a shower gift! These women can party! Anyway, Caroline was very happy with the shower, as no "games" were played. I am not sure what these women usually play, maybe something like "Pin the Umbilical Cord on the Baby." Anyway, Chili made out very well. From the useful gifts like strollers & nipples, to the unusual gifts like a nice Cheese Board & Knife Set (I'm told that was a present mix-up). So as you can see from the pictures, the presents did a great job in making the nursery into a "room." "Chili's Room!" Thank you everyone for your gifts!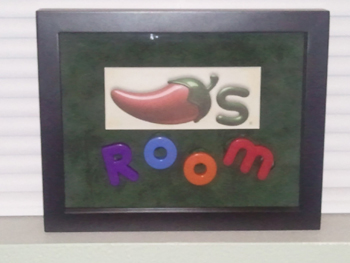 ---
LIKE A BIG CAN OF HORMEL .
May 23, 2012
I know it's been a while, and every one is checking the web page for an update on the baby. Well, we visited the doctor today and she said everything is looking great! Baby looks healthy and big! Did I say "big?" Yes, with six weeks to go, Chili is at 6 lbs., 1 oz.! Yes, this could be a big one!
The nursery is now complete, Pooh and all! Paint. Border. Crib. Dresser. And a Chair/Sleeper (so if anyone wants to baby-sit, we have a place for you to sleep also!). Pictures to come soon.
So, other than the Baby Shower for Caroline, and to pack an overnight bag, we are ready! And now that most of the street construction in the neighborhood is completed, we are back to a five block drive to the hospital!
One thing did hit home this week, that said a change is coming. It was just one sheet of paper, attached to the magazine, blocking out the cover! It read those sad words, "This is your last issue." So now the transfer is complete. I have left the world of Maxim Magazine, to become a proud subscriber of American Baby! Wow. Maybe we can name the baby Maxim?
---
THAT'S 24 YEARS, IN DOG YEARS
April 17, 2012
As Glen & Caroline entered year two of marriage, everything seem to settle down some. They got in their routine. For example, we knew who was basically in charged of washing clothes (Caroline). We knew who was cooking dinner (Glen). And we knew who was feeding Joise (Caroline & Glen). But just as things seemed normal, came the Chilli news below! This might shake things up a bit for year three. But for now, lets just celebrate their Second Wedding Anniversary on April 17, 2012!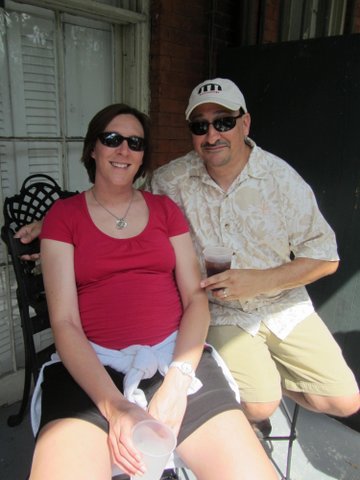 The anniversary was celebrated during a weekend stay in the French Quarter, coinciding with the French Quarter Fest. However, Glen spent most the evenings at the Fest with Friends, as Caroline & Chili got off their feet for a while. Caroline was getting frustrated anyway while walking around, as we saw about 20 bars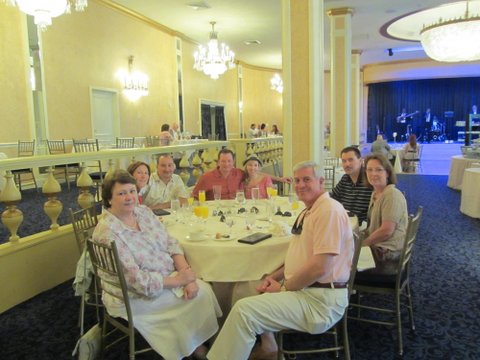 claiming they had "The Best Bloody Mary in the City!"
As we did the morning after the wedding, we returned to The Blue Room for Sunday Brunch. But this time, I invited the entire wedding party to surprise Caroline! But, due to a few days noticed, it was just Bert and brother Donald, plus surprise guest Anthony & Colleen LaRocca. (Little did I know, this was the start to the "best day ever in the city" for Colleen.) Brunch was great as always, but I will say one thing... it's so much easier to enjoy bagpipes during breakfast if you are not too hung-over from the night before!
Lastly on this Sunday, before I headed to listen to Glen David Andrews, we hung out on Bill & Carolyn's Jackson Square balcony at the Pontalba (which topped Colleen's "best day ever"), as seen on the left.
I know you are asking about Colleen's "best day ever." I won't get into it, but only to describe how she came across in her email that night.... "She sounded like a six year old on her first trip to Disney World, where she also attended the Disney Character Breakfast.
---
glencarolinechilli.com?
January 19, 2012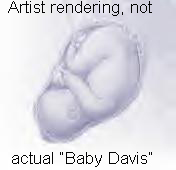 We are excited to announce a future addition to the family, and it's not another dog! Sometime around July 6, 2012, we will welcome a Baby Davis to the world! We will wait until that date to see what we are having, but during the next six months we will refer to him/her as "Chili." We are excited for the arrival of Chili, as we prepare ourselves for this life changing event.
At this point Chilli & Caroline are doing fine, although one of them is ready for a bloody mary! Glen is also doing fine, just wondering what college will cost in 2031, and if Social Security can cover that cost!
Anyway, we will keep everyone posted during the next six months.... and we may put up some pictures in July!!!
---
HAPPY, JOLLY, MERRY
January 1, 2012
Merry Christmas and Happy New Year to all from Glen & Caroline (and Josie)!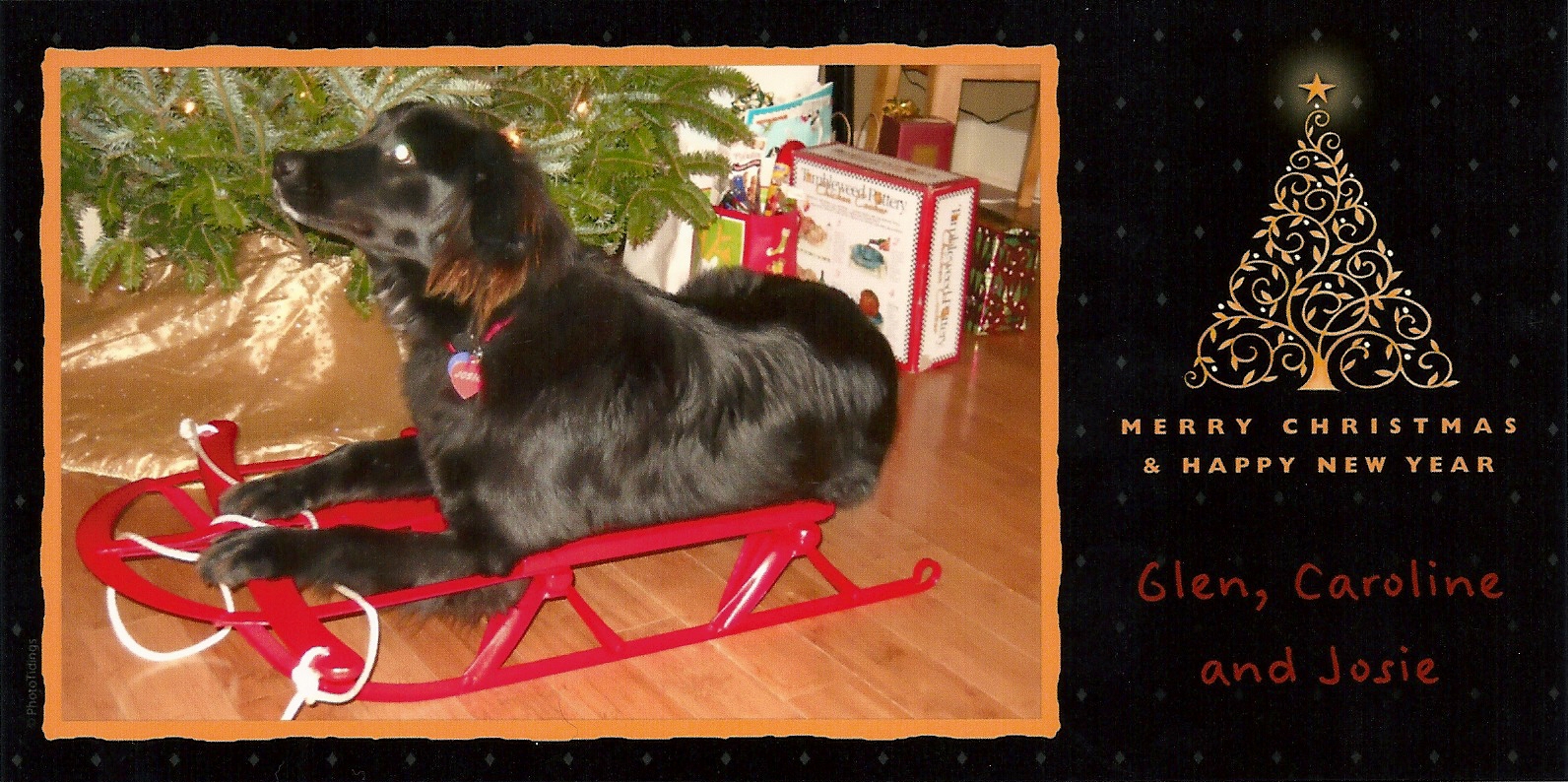 ---
ARCHIVES
---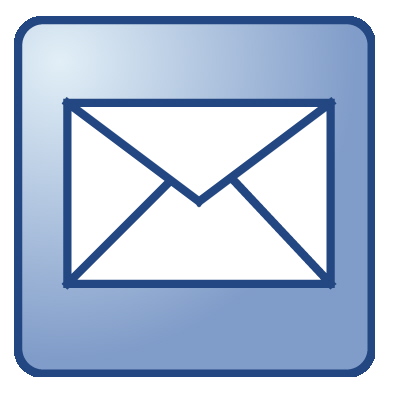 email GLEN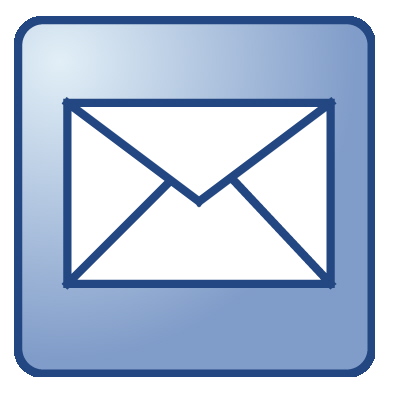 emaiI CAROLINE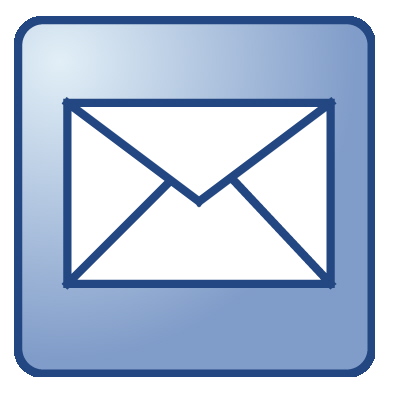 email COLT
---