glendavis.com
ARCHIVES - 2011
POSTERS, POSTERS, POSTERS
November 22, 2011
NOTE: ALL SOLD Need a Christmas gift? Walls still bare since Katrina? Want to bring some New Orleans to your out of town home? Well, due to lack of wall space, and the combination of Glen & Caroline's pre-marriage home decorations, we have some extra Jazz Fest & Crescent City Classic poster to sell. We are selling them either at our original cost, or below current market value. Some are already framed, some are still in the tubes. Please click the "Posters for Sale" link on the left to see what we got!
---
MY JOSIE GIRL
November 22, 2011
It started a little over a year ago, when we saw her face on-line. We traveled two hours to a little town outside of Clinton, LA, only to find her eating out of a trash can. But despite her questionable eating habits, we told her foster-dad, Mr. Wheeler, "We'll take her!" She was no longer Blackie. No longer Clover. She was now Josephine Constance Davis! Josie has been a welcomed member to the family, even with all those Vet bills and trips to specialty hospitals!
I am not sure why anyone wouldn't want to watch the award-winning, 12 minute, "Josie @ 8 Months" video below. Hell, there is even a special appearance by "Poor Old Charlie" in the video! But if that is too much, you can watch the new 6 second, "Josie Catching Frisbee" video!
---
ROAD PERFECT
October 2, 2011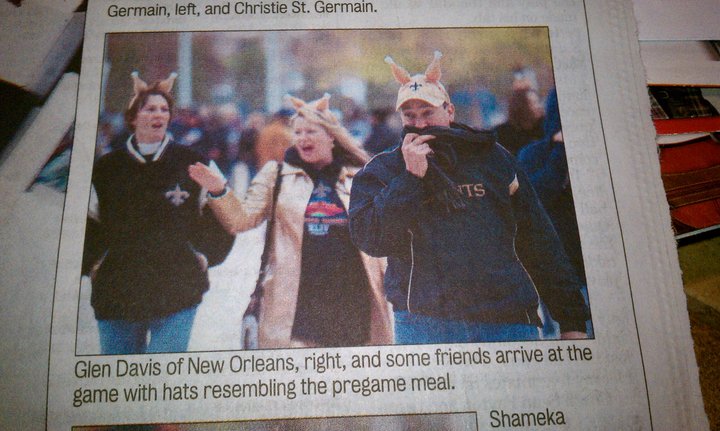 Since their nuptials, our couple has made two Saints away games, coming home from both of them with a victory! It started last year at the Jerry Dome in Dallas on Thanksgiving Day against the Cowboys. In freezing temperatures, "Glen and Friends" entered Jerry World, as was caught by The Times-Picayune. (Again, to my "friends," I can't control what the T-P writes, they just wanted MY name). This game came to the end, which started with a great strip of the ball by Malcolm Jenkins, then a 89 yard TD drive by Drew in 5 plays. Saints win 30 to 27! We then ended the day with a Thanksgiving Dinner at T.G.I.Fridays, one of only two places open downtown (I guess that's better than a What-a-Burger Thanksgiving Dinner like the previous year). We ended the trip the next day visiting the Sixth Floor Museum and the Grassy Knoll, or as that stupid lady in the gift shop asked, "Where is that Grass Spot? Caroline demonstrates to the visitors what happened.
Now we move forward to the 2011 Saints season, and the Jacksonville Jaguars. First, we have to thank my brother Donald for his hospitality: his house to stay at,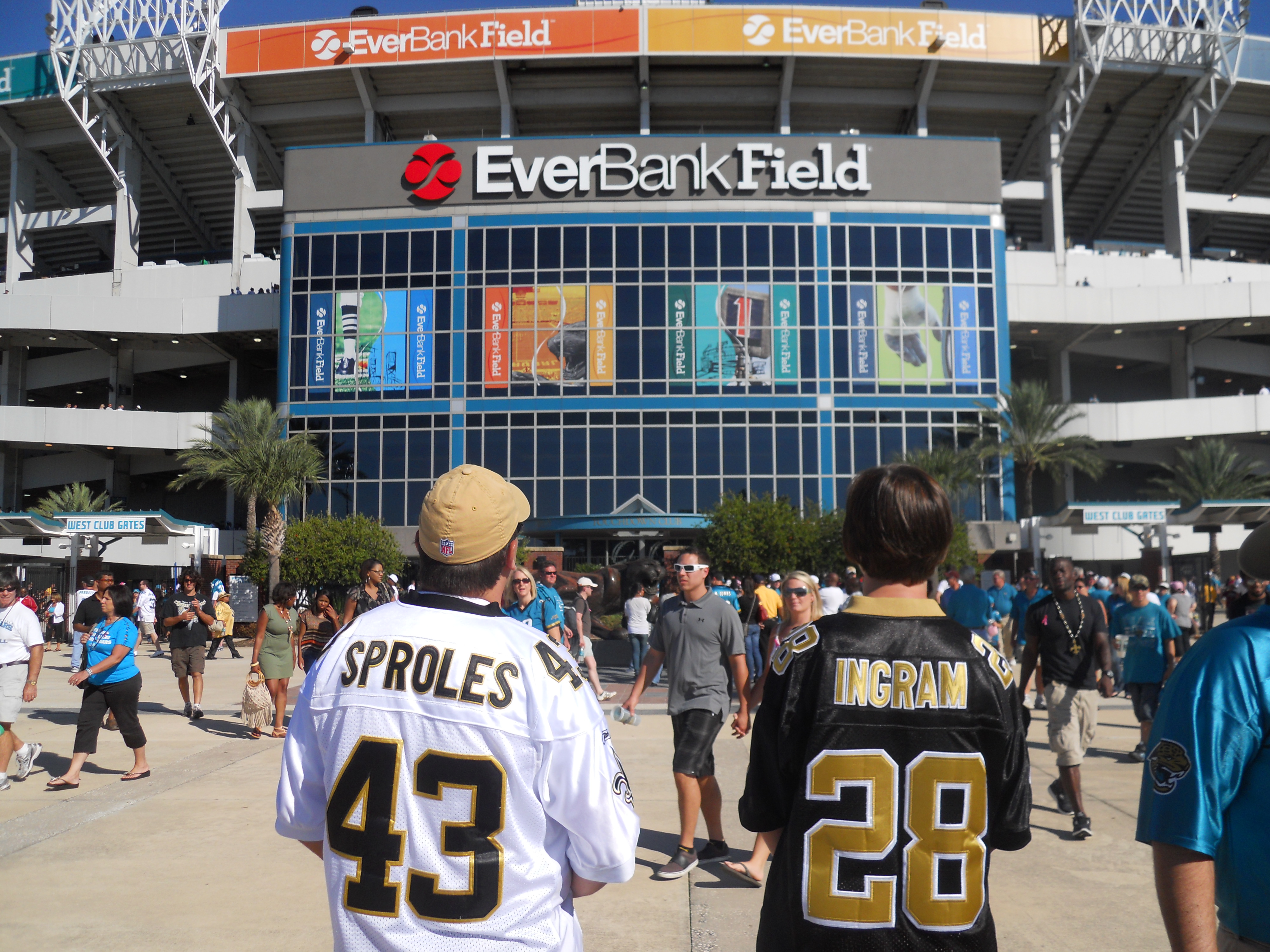 a "Cajun" tailgate party before the game, and tickets to what I believe were the best seats in the stadium! So, sporting our new Sproles & Ingram jerseys (which are officially license products of the National Football League, and not the one's you can get at a fraction of the price direct from China) we entered EverBank Field, or whatever they call it these days. This was a more relaxing game then Dallas for two reason. First, we easily won 23 to10. Second, you feel safe when the owner of the Jaguars, and his security, are two feet from you. He actually thanked us for coming. However, Caroline wouldn't let me asked him why his hash-mark arrows were pointing the wrong way on the field! Anyway, we all had a good time, except my poor nephew Brandon, wearing his Jaguar jersey.
---
NO FERRIS BEULLER DAY
May 15, 2011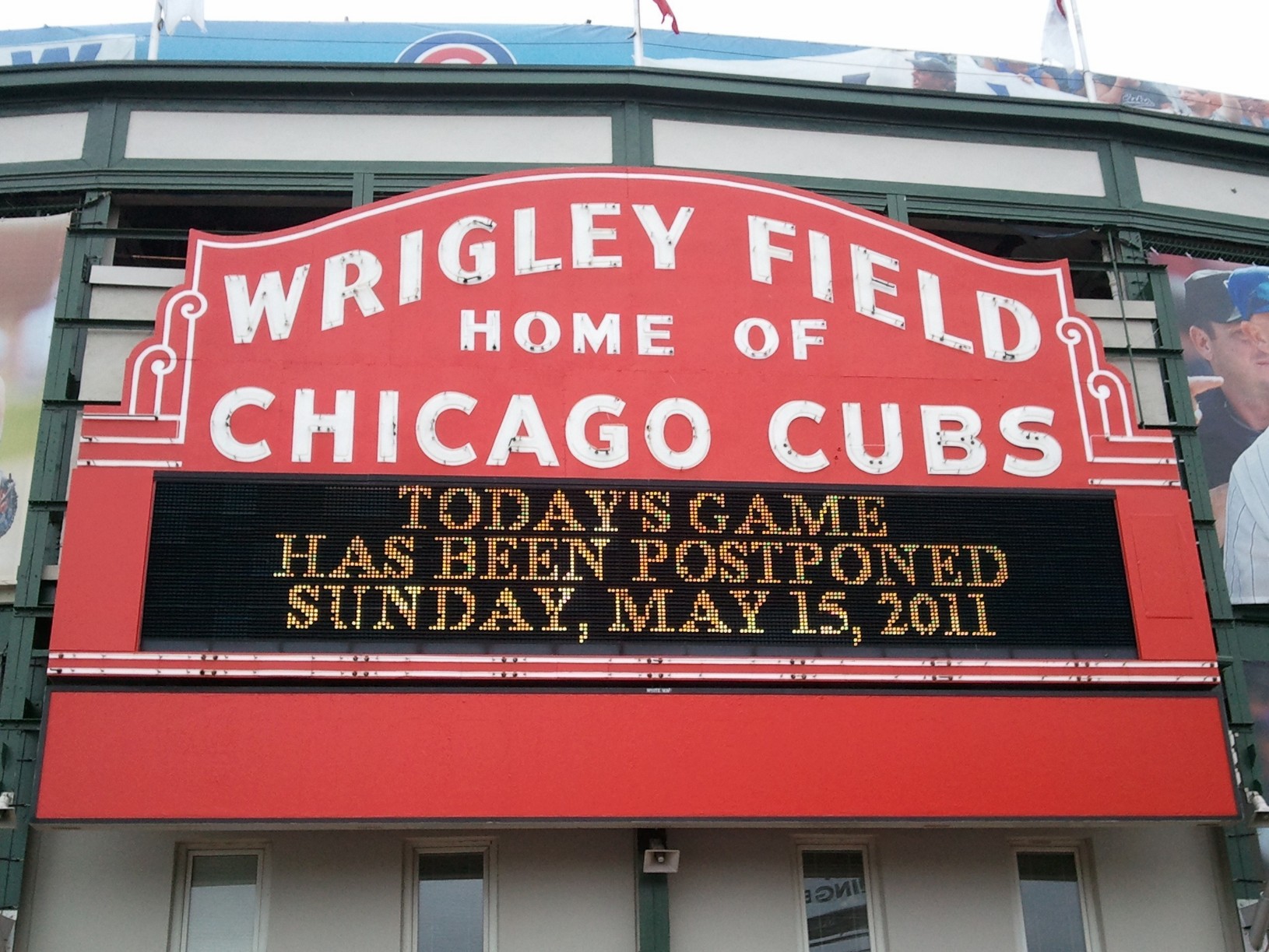 Yes, we visited the Field Museum, the Art Institute of Chicago & the Chicago History Museum. And yes, we took the Architectural Boat Tour up the Chicago River. We also walked the Magnificent Mile down Michigan Avenue, and through Millennium Park. We ate the local cuisine: Steak at Harry Carrey's Steakhouse, Deep Dish Pizza at Pizzeria Due, & a "Cheezborger, Cheezborger, No Pepsi... Coke" at the Billy Goat Tavern. We went to the top of the "What you Talking about" Willis Tower. And we even caught a great show at Second City. However, we went went to Chicago mainly for one thing, TO SEE THE CUBS AT WRIGLEY FIELD. However, as we stepped off the subway, we learned the 35 degree weather & a little rain was too much for them to play in. We made the best of it... getting drunk in Wrigleyville.
I have been on many "group" trips, but I will have to say the dynamics of this group was very unusual. First, probably for the first time since I was like four years old on a trip to the Smokey Mountains, all four of the Davis boys vacationed together (plus add a nephew & sister-in-law). Then, add my In-Laws of one year. Then throw in a Richard Mann & a Ernie Waites. And what do you get? Shit, a strange group! But is was good.